Game 7. The two greatest words in sports.
There's nothing like a winner-take-all showdown in the NBA Playoffs. Whether it's a first-round matchup, a championship on the line or anything in between, the series-deciding game is bound to be a memorable one.
The newest mode in NBA 2K Mobile – coming when Season 5 launches later this month – brings you on a journey of seven-game series of your own, culminating in glory or heartbreak.
Basically, Seasons mode is getting a major upgrade for S5. It comes in the form of Tourneys, where you will embark on playoff-like runs and earn increasingly powerful rewards. Many aspects of Tourneys will look similar to Seasons – foundation cards as rewards, climbing from one challenge to the next, and facing stronger opponents as you go.
But, there are also many wrinkles that make it a fresh and more compelling mode.
Tourneys will be divided into tiers, with one Tourney to complete for each. Every series in a Tourney rewards a card of that tier on first completion, similar to how Seasons 47-50 reward Dark Matter cards, for example. Games will be – drum roll – four quarters! And, like a real NBA playoff series, one team will host the first two games, then the other team hosts twice, and the remaining games go back and forth between venues (if they are necessary). There's also a home-court advantage – whichever team is home will get a PWR boost for that game.
Opponents in Tourneys will resemble the actual NBA team you're facing more than they do in Seasons mode. There will be instances where one or two members of the squad aren't on that team in real life, but most of the time, you will be playing against a lineup representing that franchise. Some will feature current players mixed with retired players that starred for the team back in their heyday.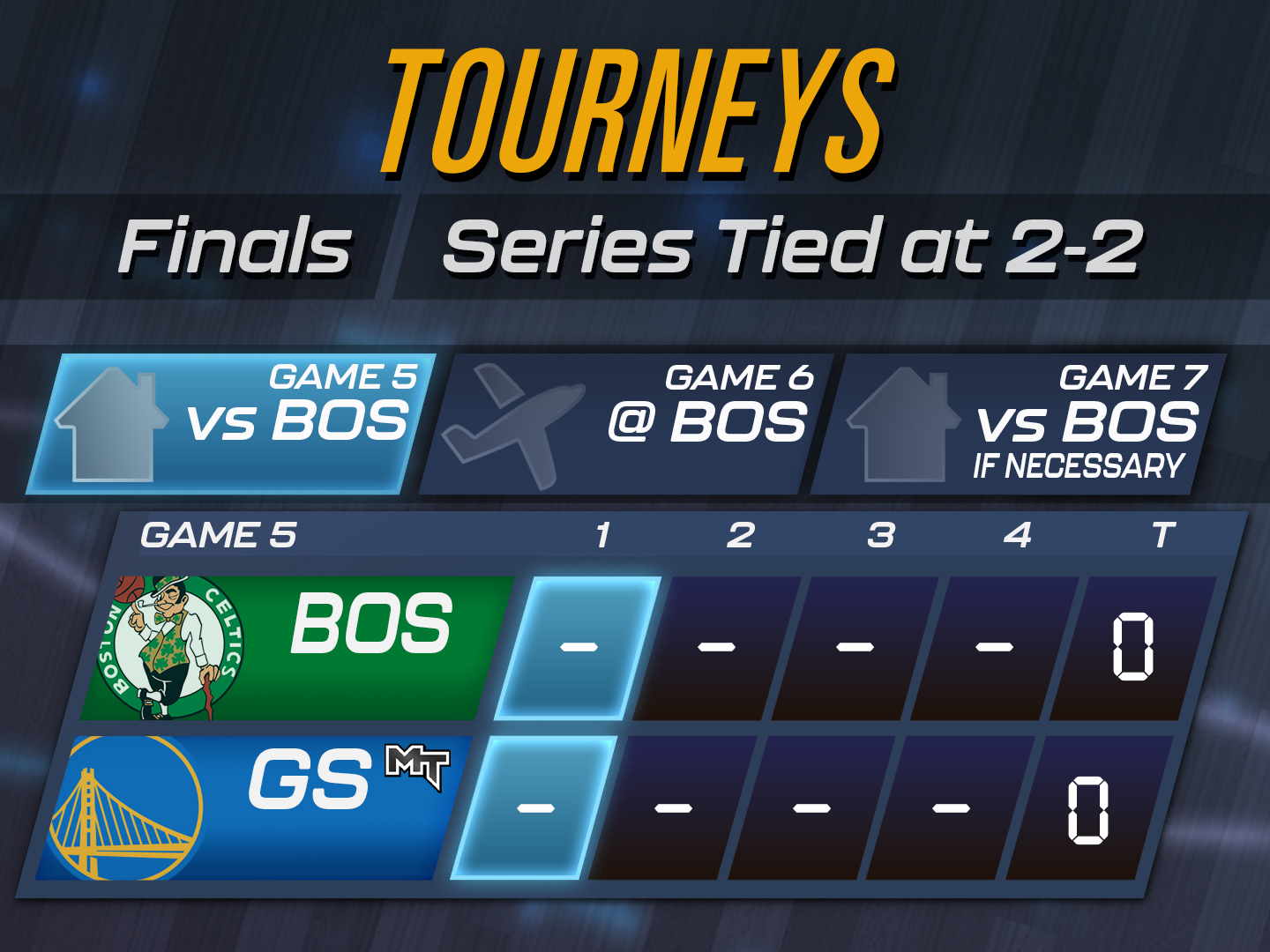 Back to the rewards. Not only are you guaranteed to earn a card on first completion of each series, but winning a Tourney will secure you a full lineup of cards in that tier. Each Tourney has five series, so by completing the Dark Matter Tourney, you'll get one DM card in each position, for example. Like Seasons, winning these after your first completion will yield a reward from a pool of possible items.
Along the way, you can earn more rewards via new challenges that task you to perform certain types of plays. They will be tasks like getting assists with a Magic Johnson card, hitting 3-pointers with a Celtics player, grabbing rebounds with your power forward, or getting steals with a Diamond card. These will get you extra Courtside points, draft picks, keys, rings and more. So, you'll want to have a deep and versatile collection to make the most of this mode.
Another cool aspect of Tourneys that's different than Seasons is maintaining progress. You can play multiple Tourneys at once and pick up where you left off in each one. Play a couple of series in the DM Tourney, go win the Finals in the Onyx Tourney, then come back to DM and finish the last three series. Oh, and that heartbreak mentioned earlier? Maybe we were being a little dramatic. Losing a series will take you back to the start of that series, not the very beginning of the Tourney.
More things to know about Tourneys:
The Simulate button can sim all four quarters of a game.
No ties in Tourneys – games will go to one-minute overtime periods until a winner is decided.
To resemble the broadcast of an NBA playoff game, the scoreboard will feature a section showing the score of the series.
Like Seasons, Courtside points are earned simply by playing Tourneys games.
Your progress in Seasons won't have a direct impact on where you start in Tourneys at S5 launch. However, your PWR will. The top tier that you can pull on draft boards at the end of Season 4 is also the highest Tourney that will be unlocked for you to start S5. From there, reaching the next tier will unlock its respective Tourney.
If you qualify for DM on draft boards, the only ones you'll need to unlock are those of the three new tiers: Topaz, Jade and Pearl. More Tourneys will become available as new tiers are released throughout S5 just as we've done with Seasons.
OK, take a deep breath, and start prepping for some grueling seven-game series. More on Season 5 coming soon!