Dynasty & Playoff-themed Cards
This month, we celebrate dynastic teams of the past and look to the now as the Playoffs start and new dynasties are potentially forged.
We've got two new sets of cards popping off this April: Dynasty theme and Playoffs theme. Dynasty cards are dedicated to multi-time NBA champions that continued to dominate. Expect cards from the classic Lakers, Celtics, and cards from more contemporary dynasties like the Warriors and the '07/'08 Celtics. 
Some of the players you can expect to see:
Steph Curry
Klay Thompson
Larry Bird
Bill Russell
Lebron James
Kobe Bryant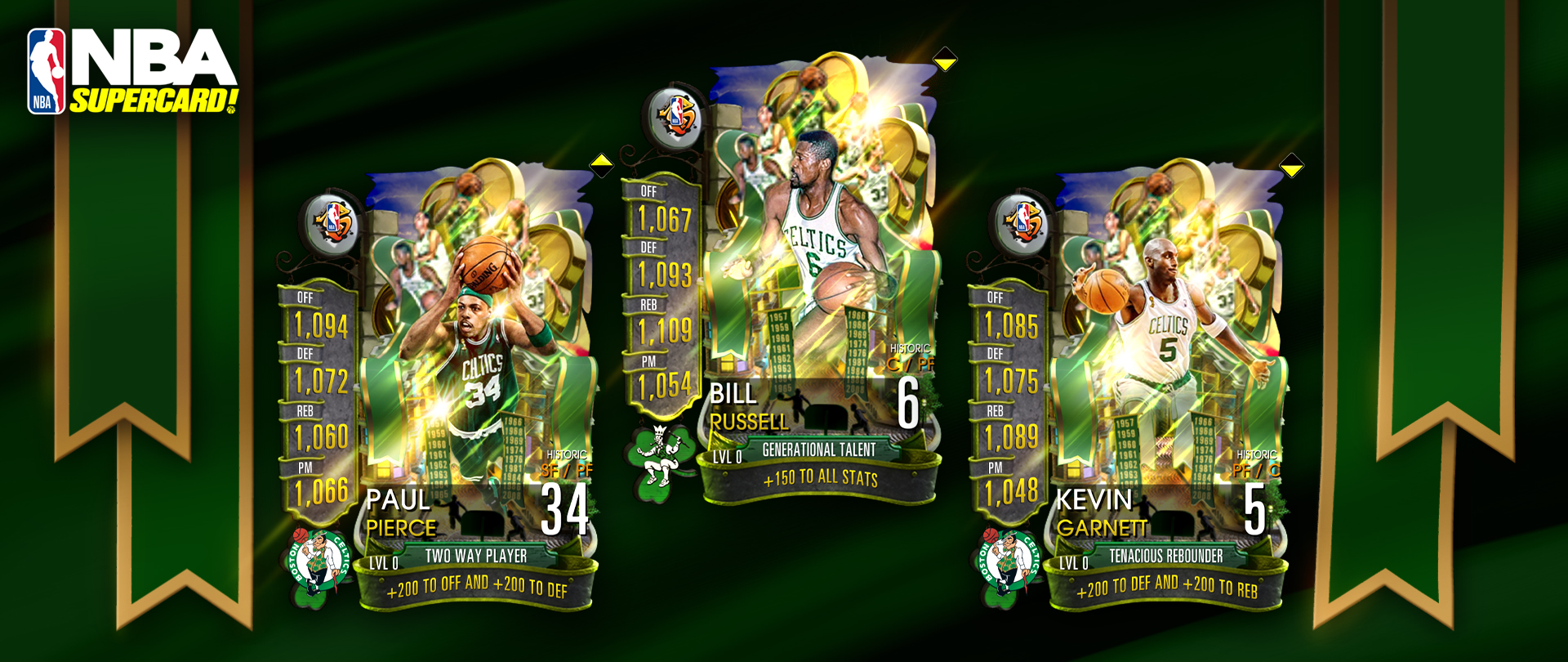 Dynasty themed cards become available via quests and packs starting Apr 5 in Downtown, Street and Breakout tier. Participate in quests for a shot at Dynasty themed cards. Checkout our Dynasty packs in the store for a shot at other Laker, Celtic, Warrior throwback cards. As we know, dynasties are made in the Playoffs, and in the Playoffs we find our second set of themed cards for the month of April.
Playoff-themed cards are just that – cards themed after the teams currently in the NBA Playoffs. Since Playoffs take over the NBA, playoff themes will also be taking over NBA SuperCard starting April 19th. 
Community Breakout Event Card(s) for Gauntlet
We wanted to give the NBASC Community a chance to decide on an event card, and you did: you chose Luka Dončić. Should we have more community polls like this in the future? Let us know on our Socials: 
In the meantime, Luka Dončić will debut as Gauntlet's Event card on Apr 13.
SuperDynasty MODE
To continue the theme of the month,  we're introducing a new game mode - something that puts you in the driver seat of running a franchise: SuperDynasty. In SuperDynasty mode, you assume the role of a team's General Manager.
As the GM, Players build a team from the bottom-up every season with the goal of creating an unbeatable team and earning the Championship, and the rewards to go along with it. 
SuperDynasty mode starts by pairing you with your favorite team with 19 other random NBA / WNBA teams making up the rest of the league. Then, the draft begins, and continues until you have 13 player cards, which will consist of 1 franchise card, one star card, 2 sets of starter cards, 6 bench cards, and 3 asset cards. 
From the draft, you will be taken to the Hub, where players will adjust their roster of 10-15 cards while complying with the salary cap. The Hub also contains the option to "Simulate Day", which once selected does just that –  it simulates the day. Once the day is simulated, it takes you to the next calendar day. Based off the calendar, you can either simulate practice with a chosen focus, a game, or a day off. Once you simulate a day, a game night is used up. Naturally, player statuses & stats will reflect which day you choose. 
Then there's the GM Tab, where you manage or trade players, and see the real-time impact on your team's salary cap. There's also the Lines tab, where you can select which players you want on your first or second team line-ups, and balance the stat distribution of a given line-up accordingly.
Once you have these basics down, the season starts and runs for 76 games with four games against each of the 19 other WNBA / NBA teams. On the last day of each in-game month, you earn rewards.  If you place top 3 in the league's standings, you will have the opportunity to choose your reward pack, which ranges from theme to pro cards. There's a lot more to SuperDynasty mode than we mention here, these are the nuts and bolts. You'll just have to play SuperDynasty yourself to really see what it's all about, and take it to the 'Ship! 
That's NBASC in April. Follow us on our socials. Keep giving us that feedback and we'll keep you updated!