FEBRUARY UPDATE - NEW ALL-STAR CARDS, NEW SUPERMOVE, & NEW REWARDS CALENDAR!
Roses are red 
Violets are blue
We don't have a Valentine's Day theme
But a new tier, All-Star cards, and Super Move, we do …
On February 2, our newest tier will hit the ground running: Street. This is just the start of a month of new cards and content, delivered lovingly from us to you. 
Street is something of a sequel to Downtown that brings you closer to the court. The aesthetic is all about sneakers scuffing cement and the energy of pick-up ball and calling your own fouls. Like all new tiers, there's going to be a lot of cards to add to your collection and they'll be available in all the usual places.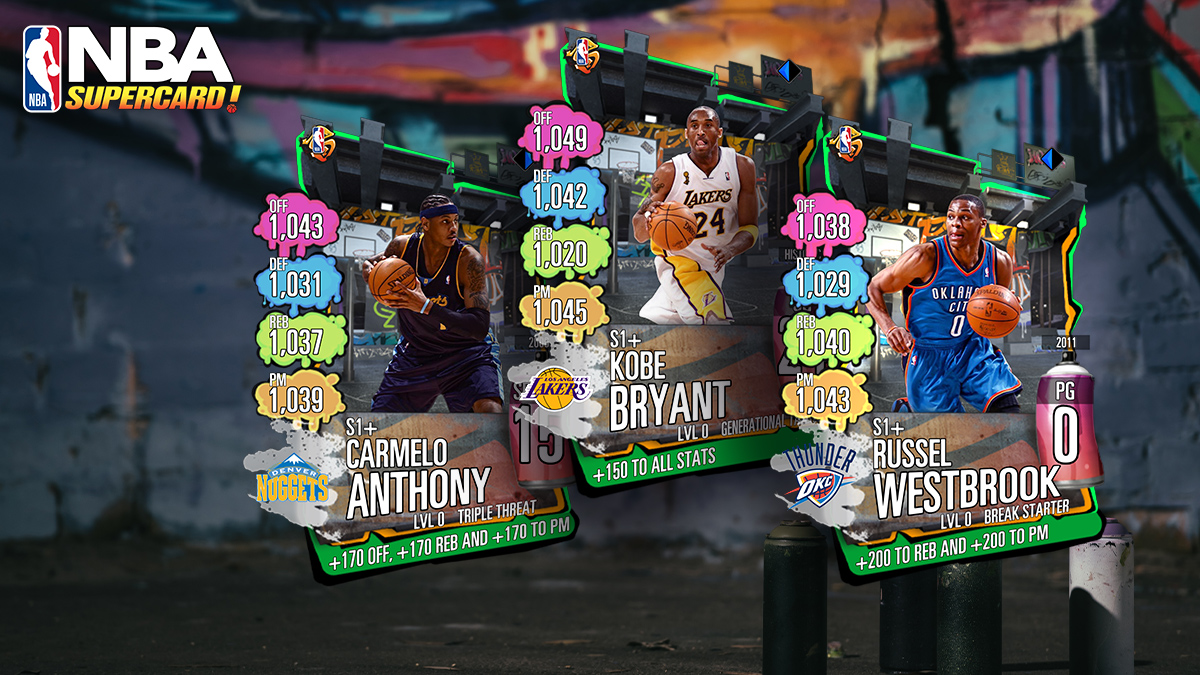 But let's say you're in a jam, down bad, no timeouts left –  what's the move? Well, may we make a suggestion …
SUPER MOVE AND 7 DAY LOGIN REWARD
Use your Super Move! Super Move is a (kinda) new mechanic that allows you to fire off massive offense and win a match with a mere tap. Build your Super Move Meter by playing matches and, when available, hit the button to DOUBLE the stats of the card or cards you're playing. 
Super Moves are a great way to get through tough event matches or score a victory against others in PVP. And, actually, if progression is your goal you should probably check out the 7-day login reward. 
The 7-day login reward is a new, scaled down version of the 30-day calendar login reward that debuts with Super Move on February 16th. 
Rewards are commensurate with the time it takes to earn them, and only available for consecutive days logged. For example, if you log in the first day (Monday), you will earn Day 1 rewards. If you miss Tuesday, your streak resets. You will not be able to claim Day 1 (Monday) again, but you can start your streak again on Wednesday, and you'll get Day 2, 3, up to Day 7 if you continue to log in.  
All-STAR THEMED CAPTAINS AND PROMO CARDS
Not only are we bringing a new tier, Super Move, and more rewards in February, but we are also introducing new themed cards that are inspired by the 2022 All-Star Game. 
Starting Feb 8 and going through Feb 16th, the All-Star Captains promotion begins (in Street tier only). Vie for collectibles in the All-Star Captains quests, PVP, and then use those combined collectibles for a shot at the Eastern and Western Conference Captains cards. Collectibles will also be available in the Superstore
Beginning Feb. 16th, All-Star themed cards become available in Spark, Downtown, and Street tiers. These cards will drop collectibles via the draft board, and the All-Star collectibles quests through Mar. 1st. Combine those collectibles for a shot at All-star themed cards.  
That's February in a nutshell. Stay tuned and follow our social media for more information and updates!