It's the moment you've been waiting for: The NBA 2K22 ratings reveal.
A player's rating is a status symbol, and for fans, it's the perfect opportunity to debate over your favorite NBA stars. We've been in the lab meticulously fine-tuning the ratings for NBA 2K22, and we're excited to share some of them with you.
Check out the list of ratings below and see who you think is deserving and who was snubbed.
TOP OVERALL PLAYERS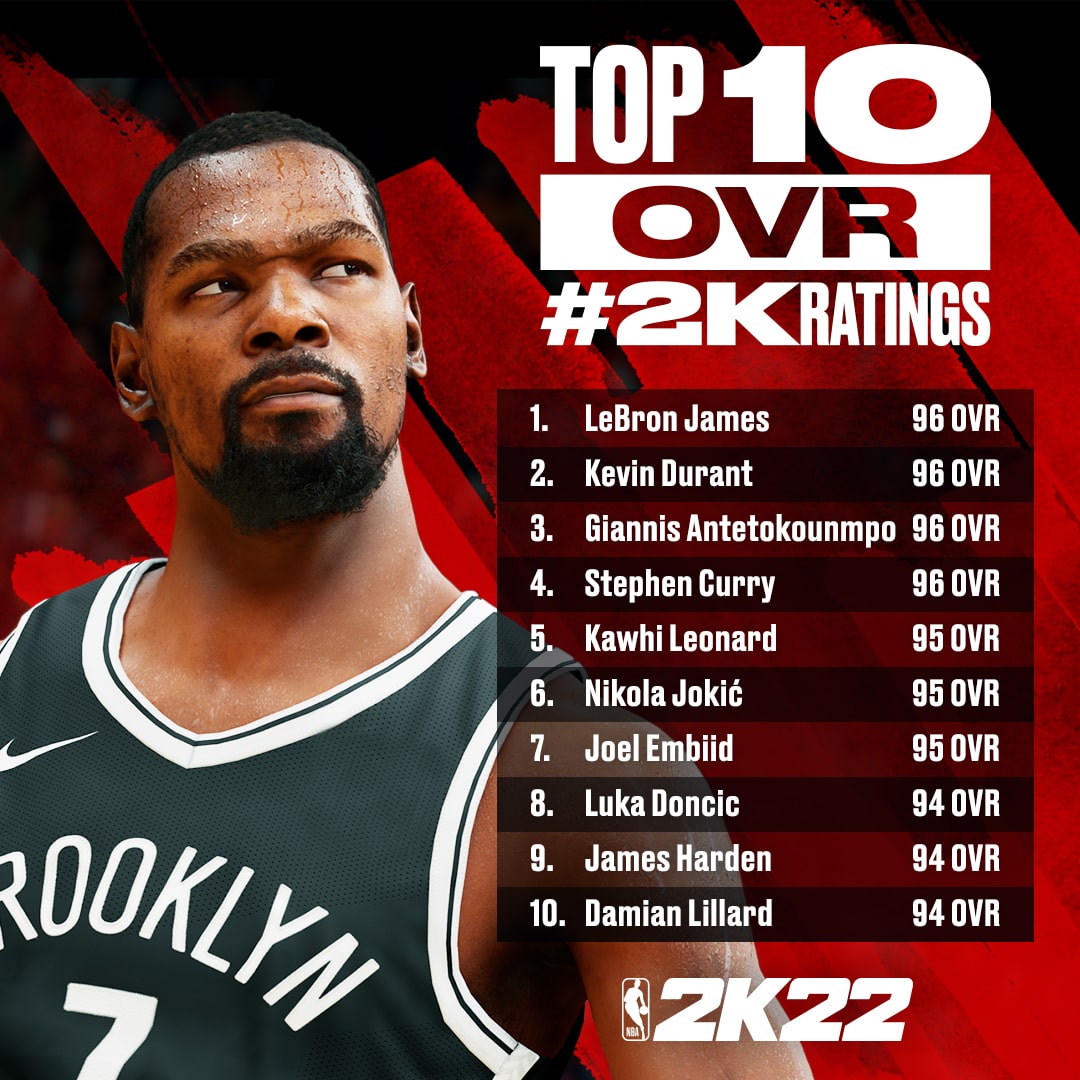 Cracking 90 overall in NBA 2K is a feat only the elite can accomplish and by doing so they're almost guaranteed a spot on the top 10 overall players list. This list comprises many of the league's heavy hitters so there shouldn't be any major surprises, but you can be the judge of that.
Clocking in for the top spot is a group of players who could all be crowned the league's best — depending on who you ask. LeBron James, Kevin Durant, Stephen Curry, and Giannis Antetokounmpo all own a sterling 96 overall rating for obvious reasons. Each dominates the game in their way and few can stop them when they get rolling. After the MVPs, though, it gets a little more interesting.
Kawhi Leonard, reigning MVP, Nikola Jokić, and Joel Embiid all boast ratings of 95 overall, despite some of their health issues. Leonard is a three-time All-NBA first-team defender, a former Defensive Player of the Year, and a former Finals MVP. When the Los Angeles Clipper is healthy, he's undeniably one of the best players in the game. Jokić became the first center to win MVP since Shaquille O'Neal did it 21 years ago, and he's redefined what it means to play the position. Joel Embiid is the biggest question mark among this trio, even though he's arguably the best big man when healthy, but that's what it comes down to. The 27-year-old took a monstrous step forward in 2021, averaging 28.5 points per game, along with 10.6 rebounds per game, but he played in just 51 games.
Rounding out the top 10, we have Luka Dončić, James Harden, and Damian Lillard all with a rating of 94 overall. Luka's ascension to stardom has been meteoric, earning the respect of his peers and NBA pundits at only 22 years of age. Harden and Lillard are offensive assassins who can catch fire at a moment's notice, and they're easily two of the NBA's most gifted scorers.
TOP THREE-POINT SHOOTERS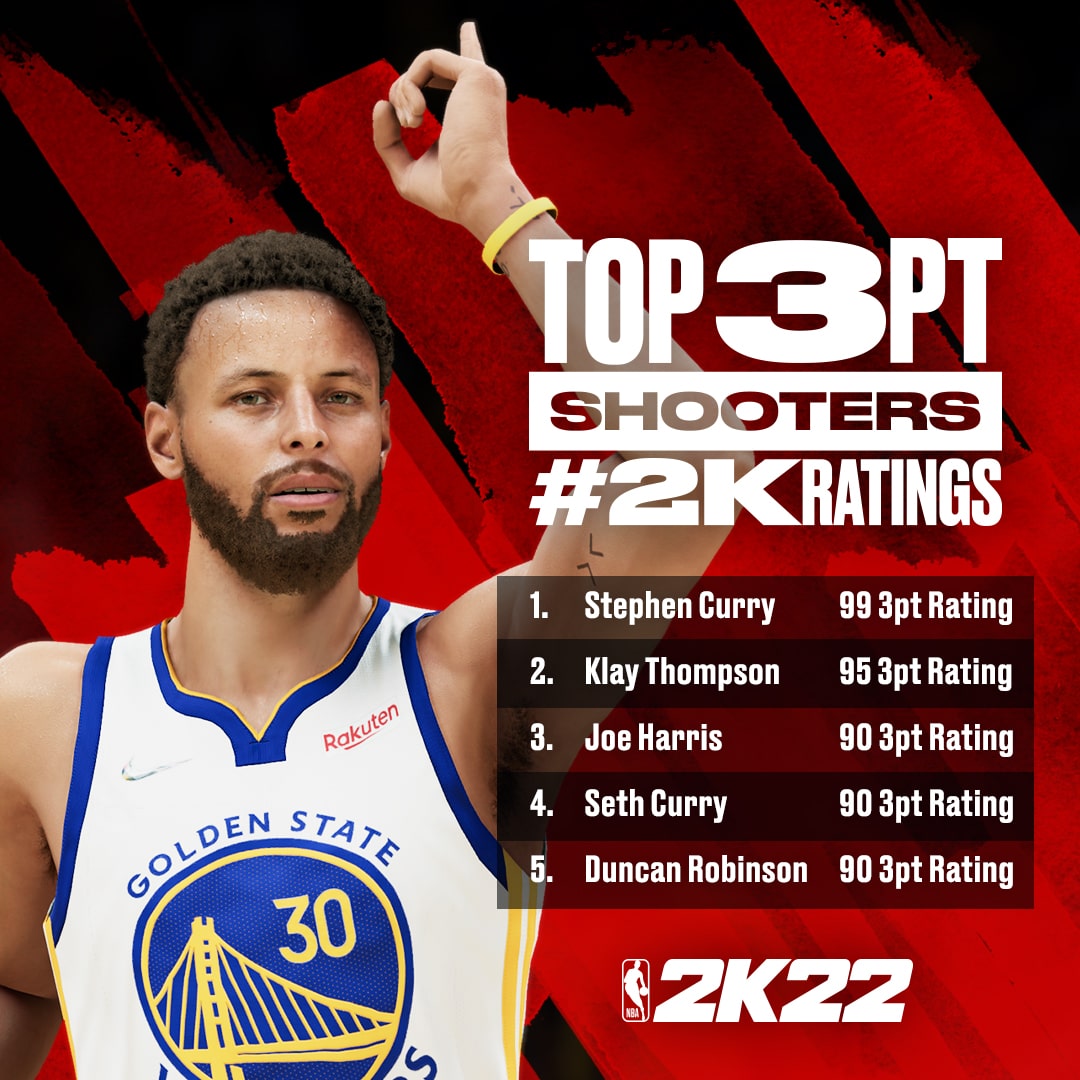 In today's NBA, teams live or die by the three. The game has changed — in large part thanks to Stephen Curry — and more players are expanding their game beyond the three-point line. It's no secret that the Splash Brothers from Golden State are the best shooters in the league today, and it's for that reason they sit atop the list of best three-point shooters. Steph's rating of 99 is a given and Klay Thompson's rating of 95 is fitting as well. Behind them, it was a tough decision, but we've determined that three members from the Eastern Conference are worthy of being top five.
Currently, Joe Harris, Seth Curry, and Duncan Robinson share a three-point rating of 90. These players might be top five, but some other notable sharpshooters deserve to have their name tossed in the ring: Kevin Durant, Buddy Hield, Damian Lillard, James Harden, Kyrie Irving, Michael Porter Jr., and Joe Ingles to name a few.
TOP ROOKIES
The 2021 NBA Rookie Class is filled with potential and it'll be interesting to see how quickly they can make an impact on their teams, and the league. For a brief moment, there was a debate as to who would be the No. 1 overall pick. It ended up being Cade Cunningham, but Jalen Green's talent is near the same level, especially when it comes to their NBA 2K22 rating. Cunningham leads the class with an 80 overall, while Green sports a 79 overall. Evan Mobley follows third with a 78, Jalen Suggs with a 77, and Scottie Barnes with a 76. For the most part, it's pretty similar to how the first five picks of the draft shook out, just swap Suggs and Barnes.
TOP DUNKERS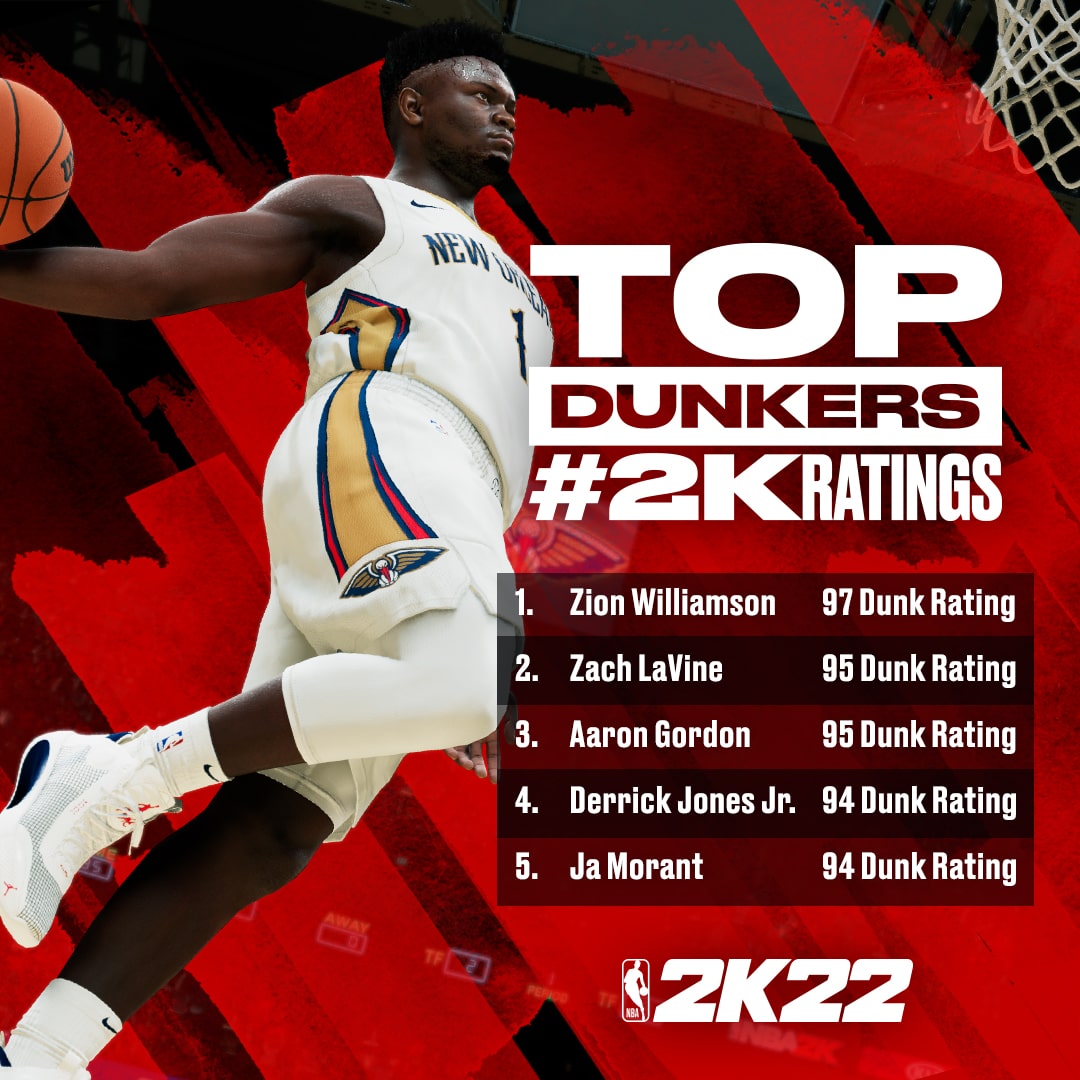 What we would give to see this group compete in an official NBA Dunk Contest, sheesh. Power, finesse, flair, you name it, they've got it in their dunk package. Watching Zion Williamson, Zach LaVine, Aaron Gordon, Derrick Jones Jr., and Ja Morant take flight is jaw-dropping. Williamson is indisputably the top dunker in NBA 2K22 with a rating of 97; however, behind the New Orleans Pelican, it's a tight group. LaVine and Gordon have a dunk rating of 95 — we'd love to see them face-off in the Dunk Contest just once more — which seems appropriate. Jones and Morant are both slender in stature, but their dunks speak volumes. Their raw athleticism earns them a 94 dunk rating. NBA 2K22's top five dunkers have the potential to detonate a ferocious slam on an unsuspecting player every time they take the court.
WNBA PLAYERS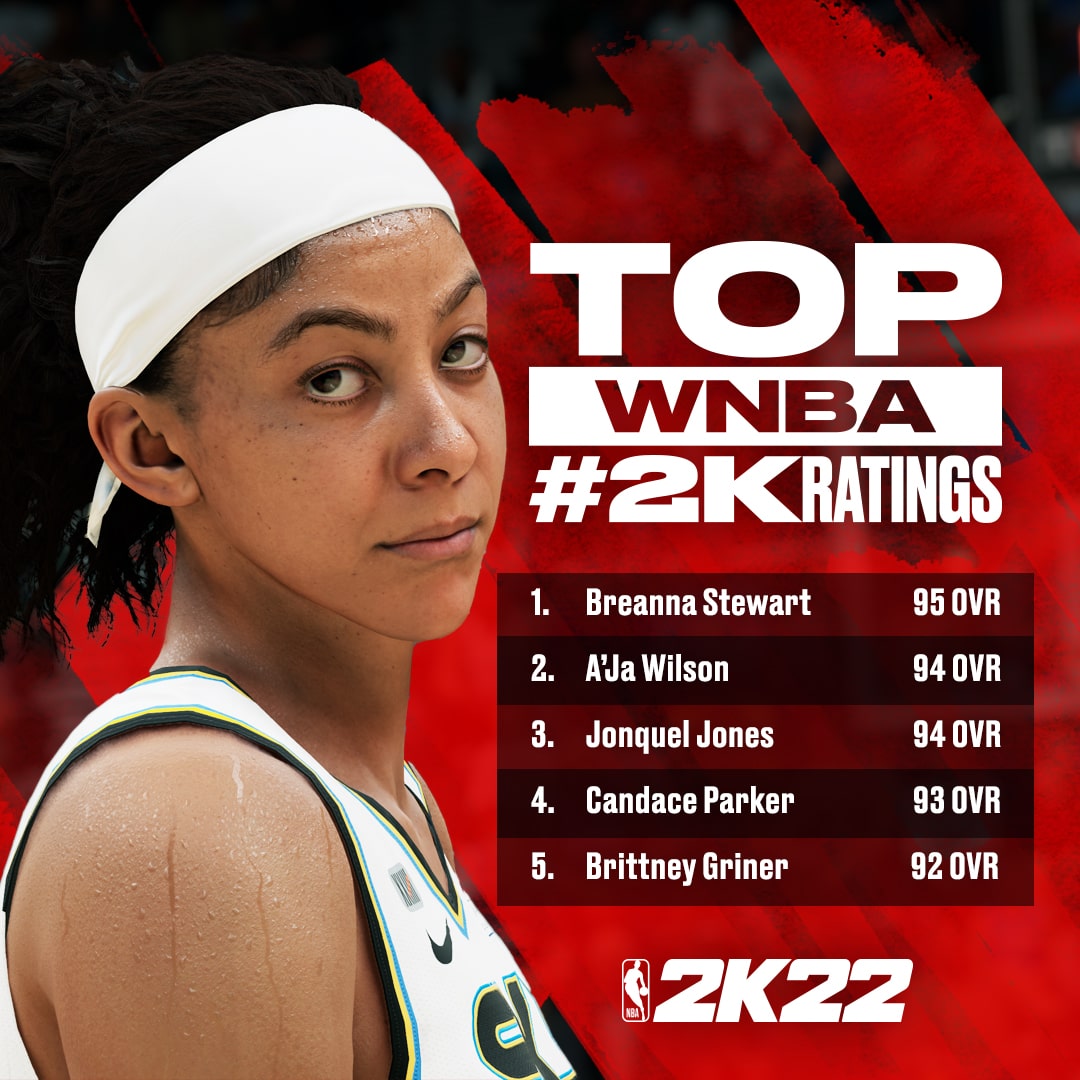 The WNBA and its players are in mid-season form, so many of these ratings are subject to change as the second half of the season comes to a close. This year, Candace Parker is the first WNBA player to grace the cover of NBA 2K. The five-time all-star is a 93 overall and fourth in the overall WNBA ratings. She sits between Breanna Stewart (95 overall), A'ja Wilson (94 overall), Jonquel Jones (94 overall), and Brittney Griner (92 overall). These five are changing the game and taking the WNBA to new heights; it's only right their ratings reflect that. Parker, Stewart, Wilson, Jones, and Griner have a combined five championships; we'll see who takes the title in 2021.
FRENCH PLAYERS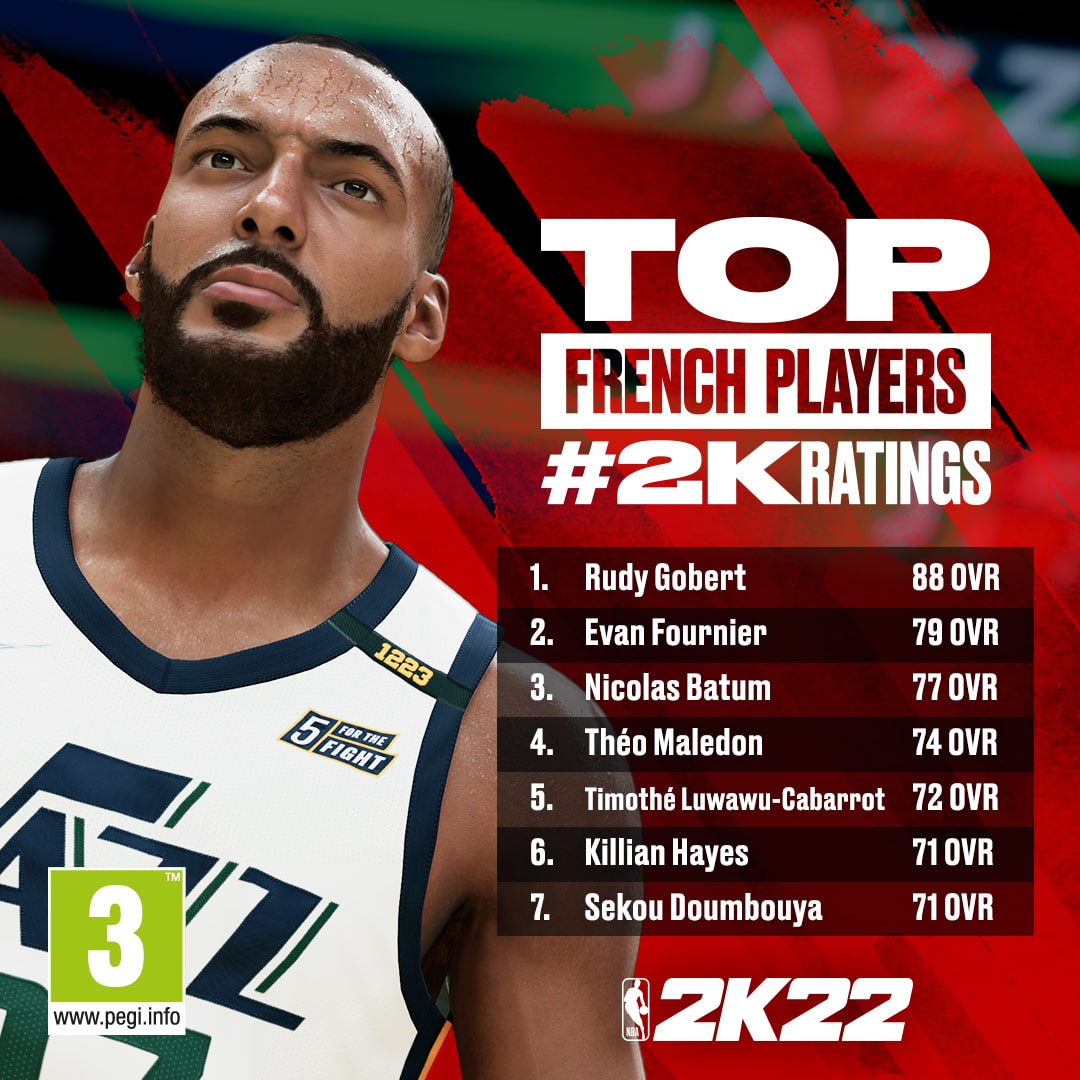 France showed out during the biggest international stage, giving the USA a run for their money in the gold medal game. It's abundantly clear that talent can be found all around the world, and there have been several French players who've left their mark on the NBA and inside NBA 2K22. Rudy Gobert is the perfect example of someone who's ascended in the Association and at the international level. The towering defender was a stat-sheet stuffer during the international tournament this summer, and balled out against Italy with 22 points, nine rebounds, one steal, and one block. 
SPANISH PLAYERS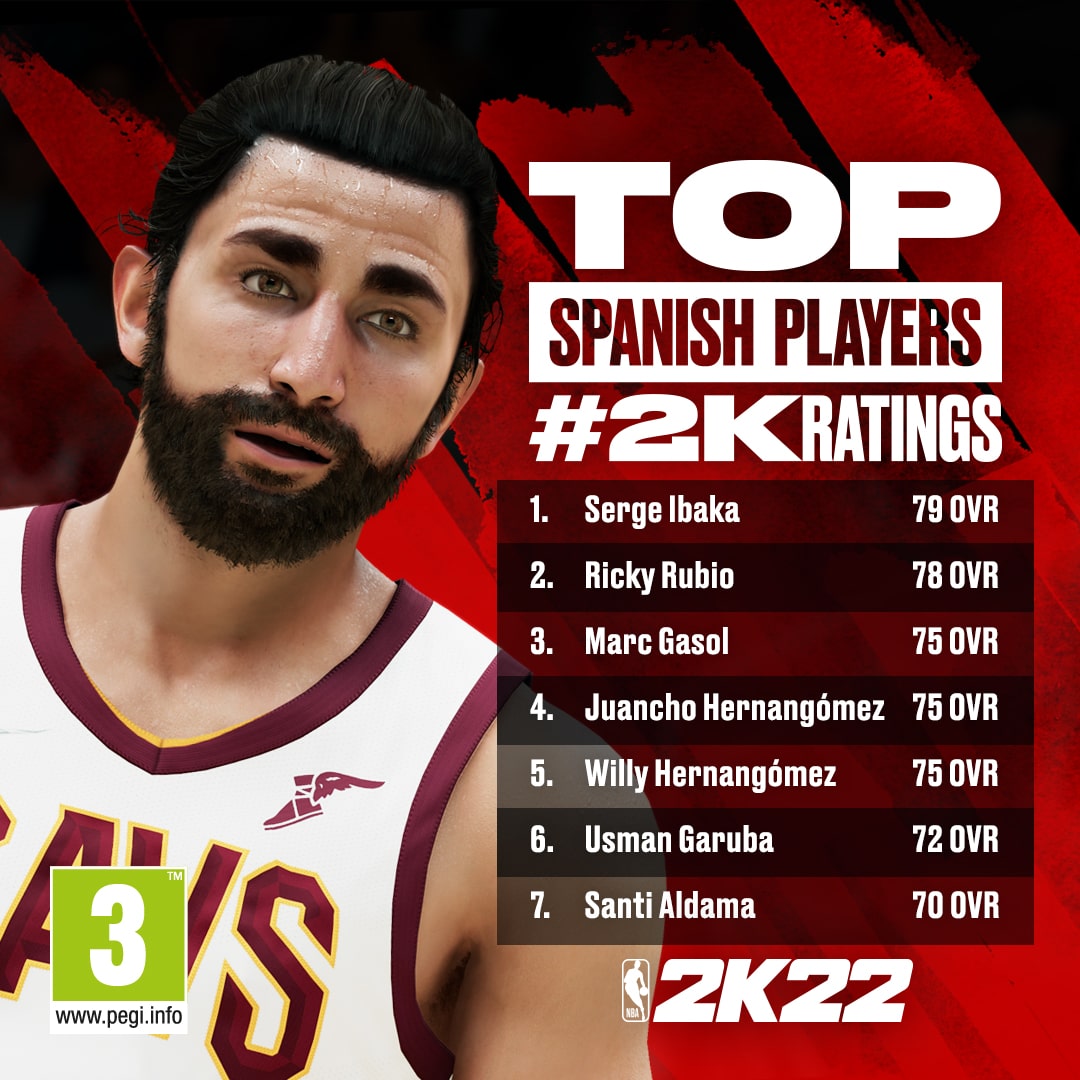 Spain was on a mission this summer, especially Ricky Rubio. Against Team USA, Rubio drilled 65 percent of his shots from the floor, leading all scorers with 38 points. Whether it's on the international stage or in the NBA, Rubio has shown what he can do in all facets of the game. In NBA 2K22, he's the highest-rated Spanish player with a rating of 78. His IQ and floor-general ability are among the best in the NBA.
AUSTRALIAN PLAYERS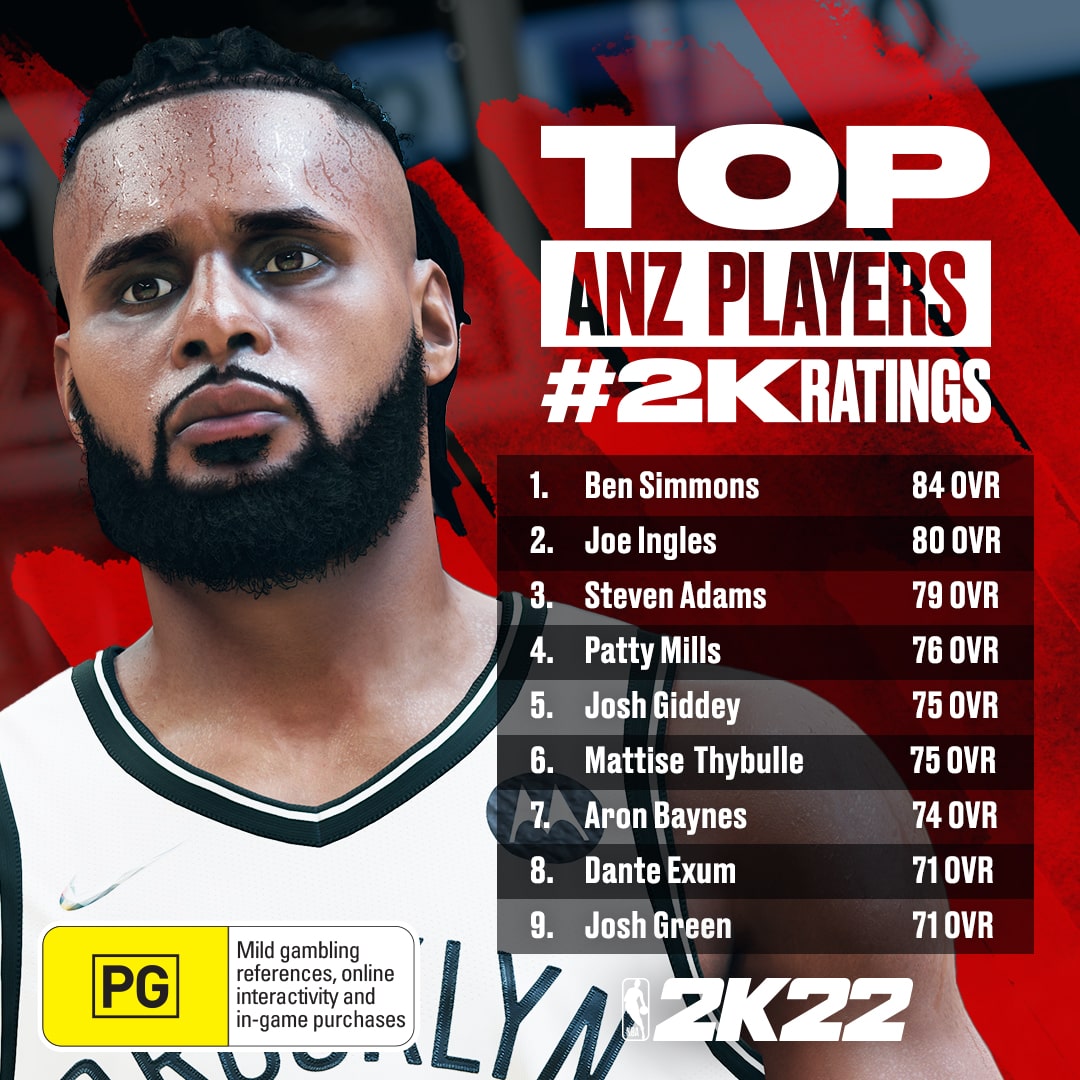 Since he was drafted by the Philadelphia 76ers in 2016, Ben Simmons' potential has never been in question. The Australian native has all the skills to be an elite player; he can rock the rim with vicious dunks, find the open man even in a tight window, and is working on extending his offensive range. He leads all Australians with a rating of 84, and it's likely that increases if he can find his shot.
GERMAN PLAYERS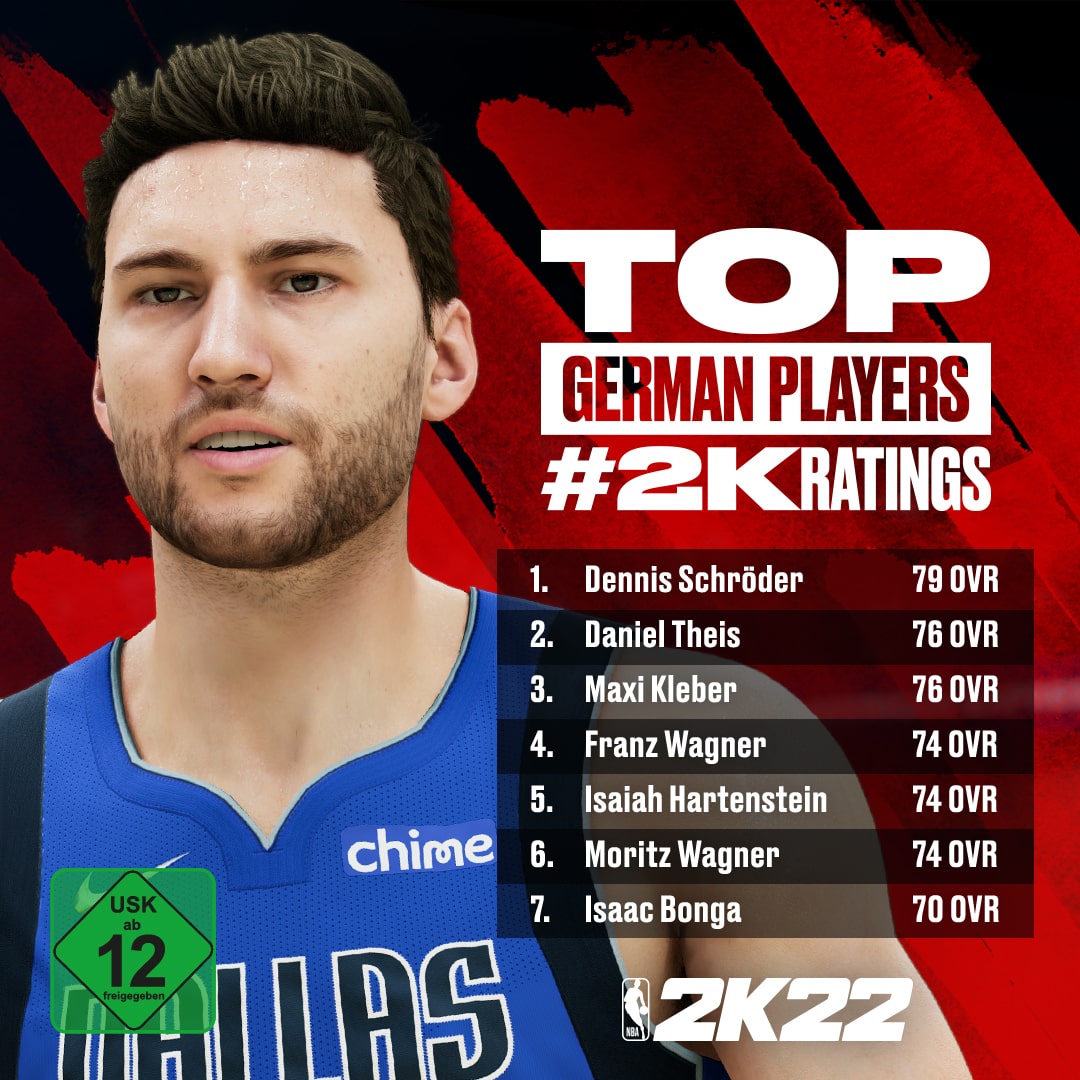 Last, but certainly not least, we arrive at the German players in the Association. Filtered throughout, there are a handful of quality players contributing in various roles. Most notably, Dennis Schröder, the newest member of the Boston Celtics, ranks atop the list with a 79 overall. Schröder thrives as a slasher in the paint, blazing by his defender to the rack. Maxi Kleber, 76 overall, might not have Schröder's speed, but he was a superb three-point marksman last season, averaging 41 percent from behind the arc.
IN CLOSING
We've put a lot of thought into each player's rating and we'll continue to update them throughout the 2021-2022 campaign. Stay locked in to @NBA2K on Twitter and our other social platforms to find out the latest news regarding ratings, MyTEAM, MyCAREER, and more.