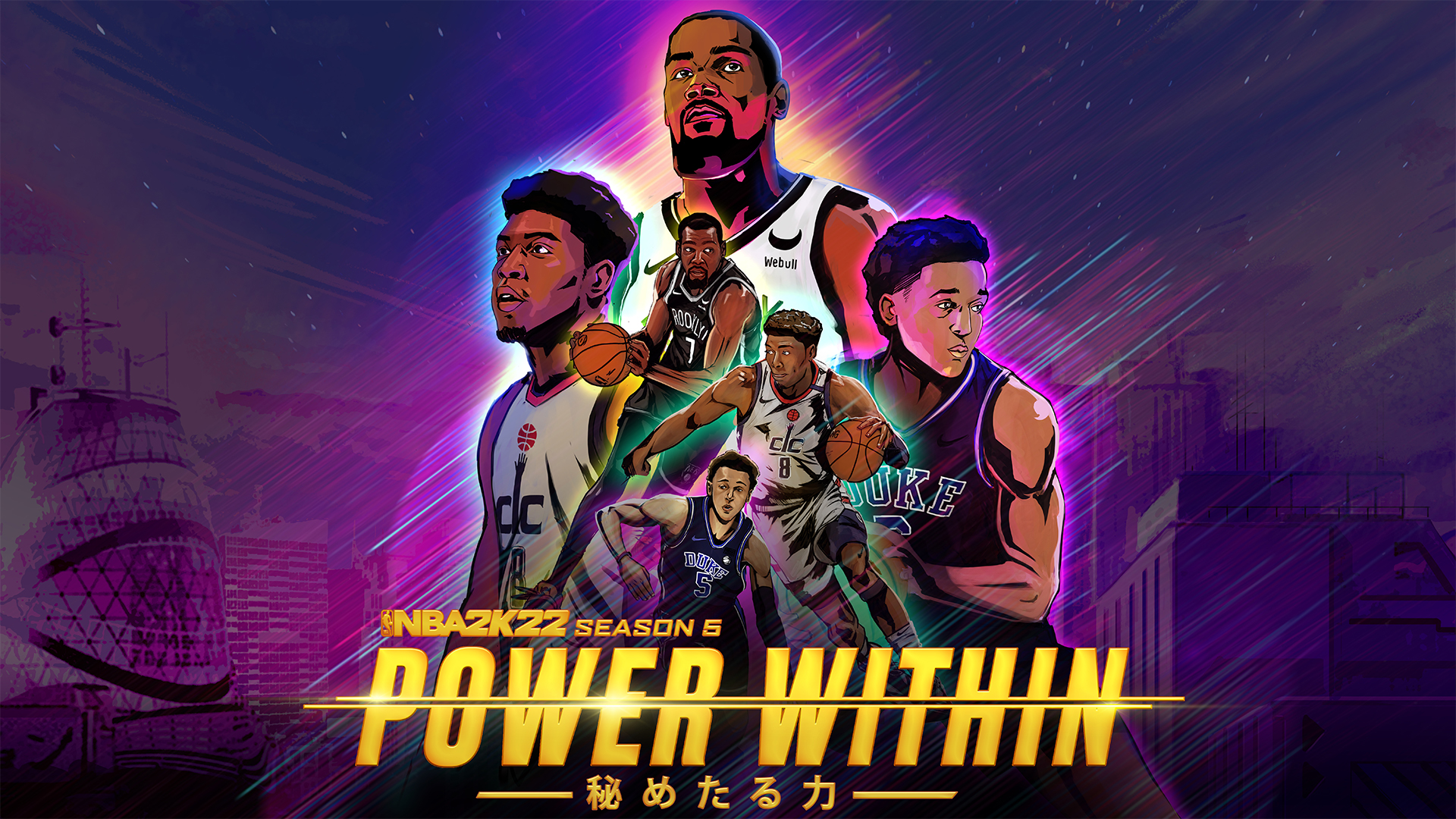 Can you feel it? Beneath the surface, a legendary power lies dormant, waiting to be unleashed. As a new day dawns with the arrival of Season 5: Power Within, victory and a trove of rewards await you, and the road to Level 40 will be filled with adventure. On your quest, you'll need to search deep within and awaken a power only few possess. Become the hero the City and the Cancha Del Mar deserve, and reach your full potential as a Legend. Gain inspiration from two-time champion Kevin Durant, 2019 first-round pick Rui Hachimura, and if the prophecy is true, future NBA superstar Paolo Banchero.
Throughout your journey, you'll see new sights around the world and have the chance to push yourself in all-new events. If you successfully complete your mission of reaching Level 40, you'll feel an overwhelming sense of accomplishment, but more importantly, you'll earn ani-mazing apparel, a futuristic hoverboard, and a colorful Grand Prize. This is just a taste of what lies in store for you—ready to get started?
ALL-NEW MyCAREER UPDATES
NBA 2K22 is rolling out another action-packed Season with the arrival of Season 5: Power Within. Achieving Legendary status became possible in Season 4 and we watched many of you rise to the top, but Season 5 is all about how you use your new-found power. If you haven't become a Legend yet, you can try to do so this Season starting February 25! A new journey begins as you'll encounter thrilling quests, cutting-edge rewards, and environment updates around the City and the Cancha Del Mar with new murals and court floors. Plastered with stunning details and artistic flourishes, these gorgeous courts will serve as the battleground where many of your storylines will play out. Level up and earn XP around the City by competing in pickup games at the Rooftops and REC, where you'll square up with formidable foes of all shapes and sizes.
DISCOVER AND CLAIM USEFUL REWARDS
Over the course of Season 5: Power Within, ascend and become a hero on and off the court by completing quests and challenges around the City and Cancha Del Mar. As in previous Seasons, you'll embark on a six-week journey, climbing each level in hopes of reaching the peak of Level 40. Along the way, you'll earn a plethora of goodies, like Animation Packs, Seasonal apparel, Badge Points, and a futuristic hoverboard at Level 30. That should be more than enough to motivate you, but there's also a very special Grand Prize awaiting you at Level 40. For new-gen players, depending on which Affiliation you're associated with in NBA 2K22, you'll be rewarded with either a Wildcat, Viper, Knight, or Beast Affiliation Skin. For current-gen players, you'll have the option to select the mascot you prefer. Traverse around your environment sporting a little team spirit and show some mascot pride.
ALL-NEW MyTEAM UPDATES
Season 5: Power Within will be another historic Season in MyTEAM with more brand-new players and the conclusion of our TWO $250,000 MyTEAM Unlimited Tournaments. MyTEAM's Season 5 will also feature the return of Dynamic Ratings cards, a new Domination tier, new coaches, an anime-themed mural to complete, and the first 99 overall Dark Matter reward for reaching Level 40! Let's get into it.
POWER UP WITH DYNAMIC RATINGS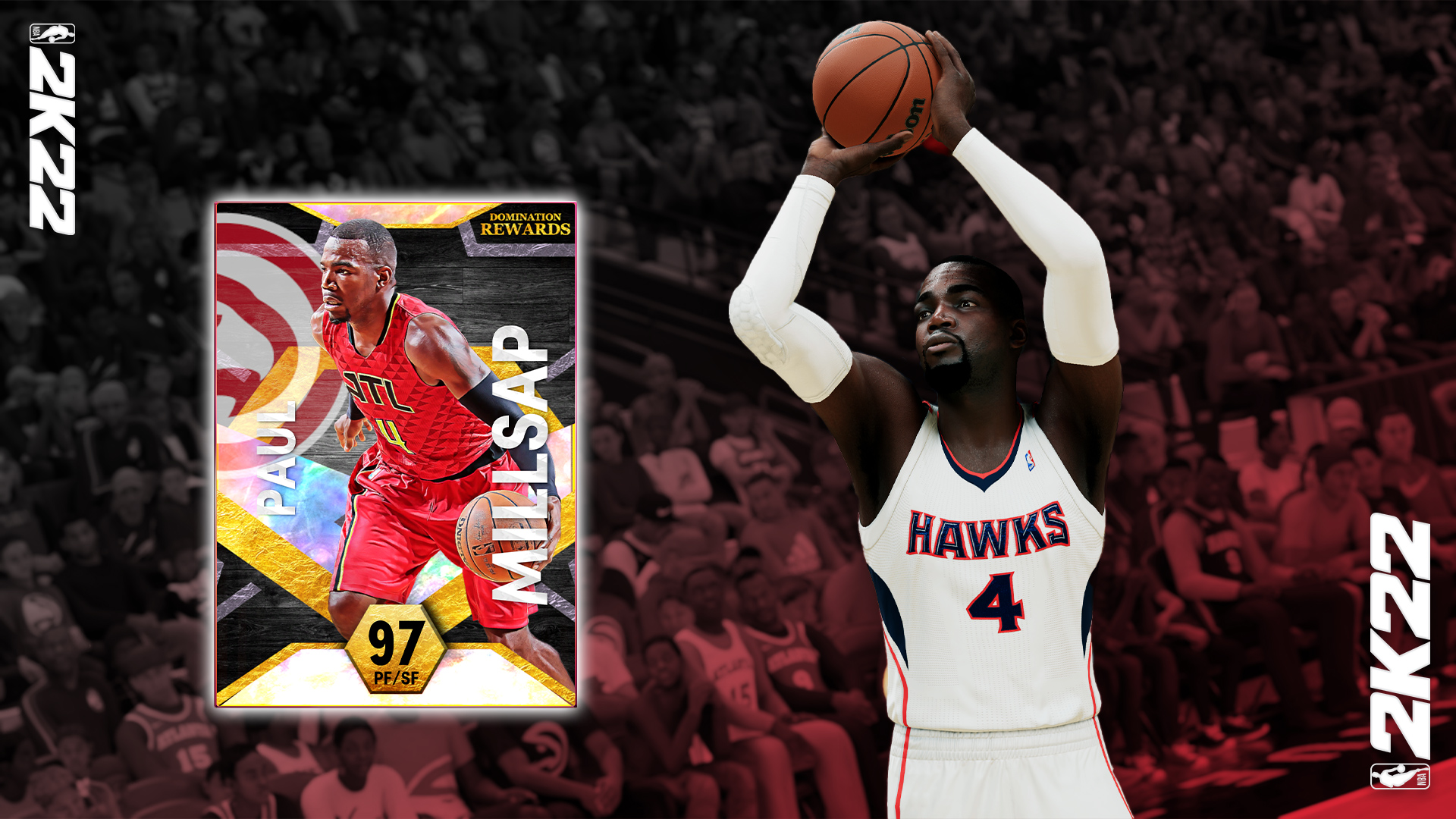 Dynamic Ratings cards are back! Season 5 brings the final base set of NBA 2K22's MyTEAM featuring all 30 current NBA teams with over 400 new player cards. You can expect these cards' ratings to fluctuate as each players' real-life performance permanently affects their MyTEAM cards. Expand your Collector Level with this new release by openingLeague & Premium packs in the Market, then compete against the entire set in a new Dynamic Ratings Domination tier to earn players from each team. Jump in and pick-up all 99 Stars in this new tier to add Galaxy Opal Paul Millsap to your collection.
DARK MATTER RAY ALLEN
Coming out of the University of Connecticut, Ray Allen was a lanky 6'5" guard with impeccable scoring and handling skills, and all the talent to be a future NBA star. It was undeniable that Allen possessed a silky jump shot with a lightning-fast release and raw athleticism that made NBA scouts giddy over his potential. Selected No. 5 overall by the Milwaukee Bucks in 1996, Allen didn't take long to adjust to the pace and intensity of the NBA. For seven seasons, Allen dominated the stat sheet with the Bucks, launching a barrage of three-pointers to wreak havoc on opposing defenses, and you can do the same this Season with the legendary guard. Reach Level 40 to earn Dark Matter Ray Allen and use one of the greatest shooters of all-time from his early days as a Buck.
ANOTHER DARK MATTER ARRIVES
Over the course of 3 unique events this Season, a new Event Card mural will be assembled in MyTEAM. Each event will be crowned with an anime-themed Galaxy Opal reward player, while completing the imposing figure's mural will earn a high-flying Dark Matter to your collection. Be on the lookout for these events, because they will only be available during Season 5. 
CELEBRATING THE NBA 75
The NBA released its list for the 75 greatest players of all-time this year to commemorate 75 years of professional basketball, giving many players their flowers of appreciation. As a result, NBA 2K is conducting a 75th anniversary celebration of its own, featuring six MyTEAM collections spanning six decades and an NBA 75 Domination tier. If you'd like to learn more, you can check out additional details on our dedicated NBA 75th Anniversary page.
In Season 5, we're completing the six NBA 75 MyTEAM collections over the course of three weeks. Beginning Tuesday, March 1st, the 2000s and the 2010s will be the first collections completed, with the '80s/'90s and '60s/'70s to follow suit. There were some noteworthy players who were not included on the NBA 75 list, but you can make sure they get their shine by voting on who will be selected as the Dark Matter Collection Reward for each decade. Your time to vote starts now! Head over to the official MyTEAM Twitter to choose your picks for the first two collections. Will the 2010s' Collection Complete reward shoot the lights out with Klay Thompson, defend everyone on the court with Draymond Green, break the rim with Zion Williamson, or dominate the competition with Joel Embiid? It's the community's choice! Check back Friday for the results, get the new card on Tuesday, and vote again for the next week's rewards the following Wednesday and Thursday.
HISTORIC COACHES
Are you ready for your lineup to be led by some of the greatest NBA coaches of all-time? On Friday, new historic Coach Cards will be added to MyTEAM packs to unlock the 'Power Within' your favorite players! Add Hall of Famers like Don Nelson, Rick Adelman, Jerry Sloan, Lenny Wilkins, Larry Brown, and more. There will also be a new Phil Jackson coach card, along with historic versions of Doc Rivers, Mike D'Antoni, Erik Spoelstra, and Ty Lue. And of course, rated as a Galaxy Opal, the soon-to-be all-time winningest coach in the NBA, Gregg Popovich!
ENJOY FRESH MyTEAM REWARDS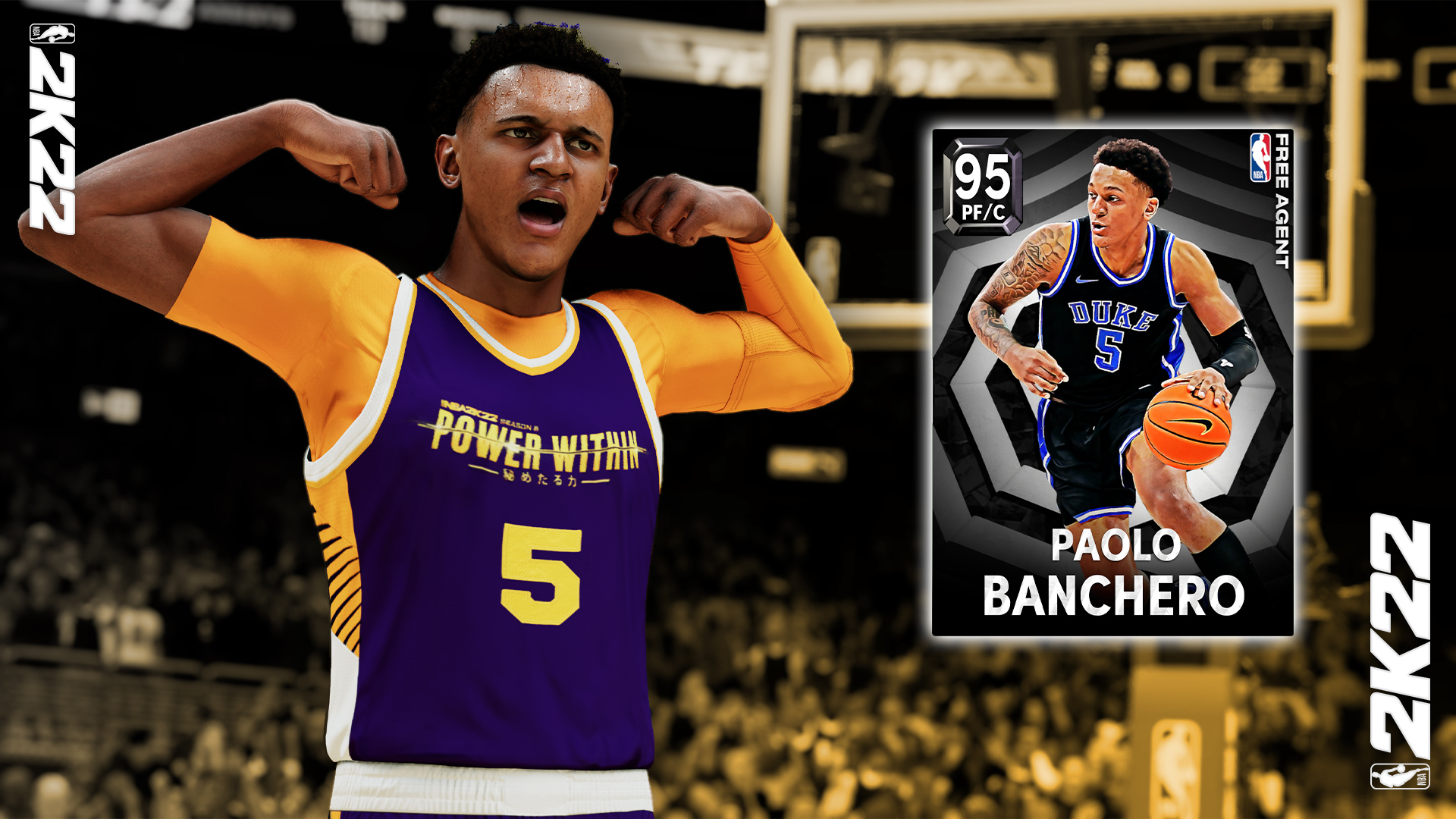 Each Season brings brand new rewards, and in Season 5, MyTEAM will feature two players making their NBA 2K debut. For the first-time-ever, at Level 1, you'll earn a current collegiate star! Paolo Banchero arrives in MyTEAM with a 95 overall Free Agent card. At just 19 years old, Banchero is averaging 17 points per game, 8.7 rebounds per game, and 2.6 assists per game in his first season as a Duke Blue Devil. The promising forward has a bright career ahead of him in the NBA, and now you can see how he'll match up with NBA greats in MyTEAM.
Banchero might be the future, but you better believe we aren't sleeping on former stars like Galaxy Opal Cincinnatus Powell. Before the ABA-NBA merger in 1976, Powell was a two-time All-Star in the ABA, playing for the Dallas Chaparrals, Kentucky Colonels, Utah Stars, and the Virginia Squires, posting career numbers of 16.3 points per game, 7.6 rebounds per game, and 2.2 assists per game. Powell was a force during his era, and you can bring him into the present by winning at least 12 of the 16 games in Unlimited's Galaxy Opal Tier.
The Banchero and Powell rewards will be accompanied by other player cards like Galaxy Opal Richard Hamilton from Draft, Sidney Moncrief in the Exchange, Shawn Kemp on the Clutch Time wheel, "Boogie" DeMarcus Cousins in Limited, and even more! You will be able to fill out a full lineup of Galaxy Opal reward cards during Season 5! Plus, be on the lookout for a new Moments of the Month on March 8th, and more new reward additions to MyTEAM throughout the Season.
THE W ONLINE
Are you ready for another Season of action in The W? All year, we've been introducing WNBA legends for you to connect with so you can grow your contact list and become the best player on the planet. Last Season, we featured a pair of master coaches, Becky Hammon and Dawn Staley, as Hall of Fame tier rewards. For Season 5, we're taking a breather from coaches and putting the focus back on the players. Ticha Penicheiro and Yolanda Griffith are a pair of Sacramento legends dating back to their dominance in the late '90s and early 2000s, who will be available to you. The dynamic duo will be the Hall of Fame reward, along with a Takeover Perk Picker. The other three reward tiers consist of 4,000 VC, an extra Badge Point, 2K Breakthrough Gear, Seasonal Clothing Bundle, and a Custom Player Indicator. Take the next step in your development and find your power in The W.
NINJA TUNE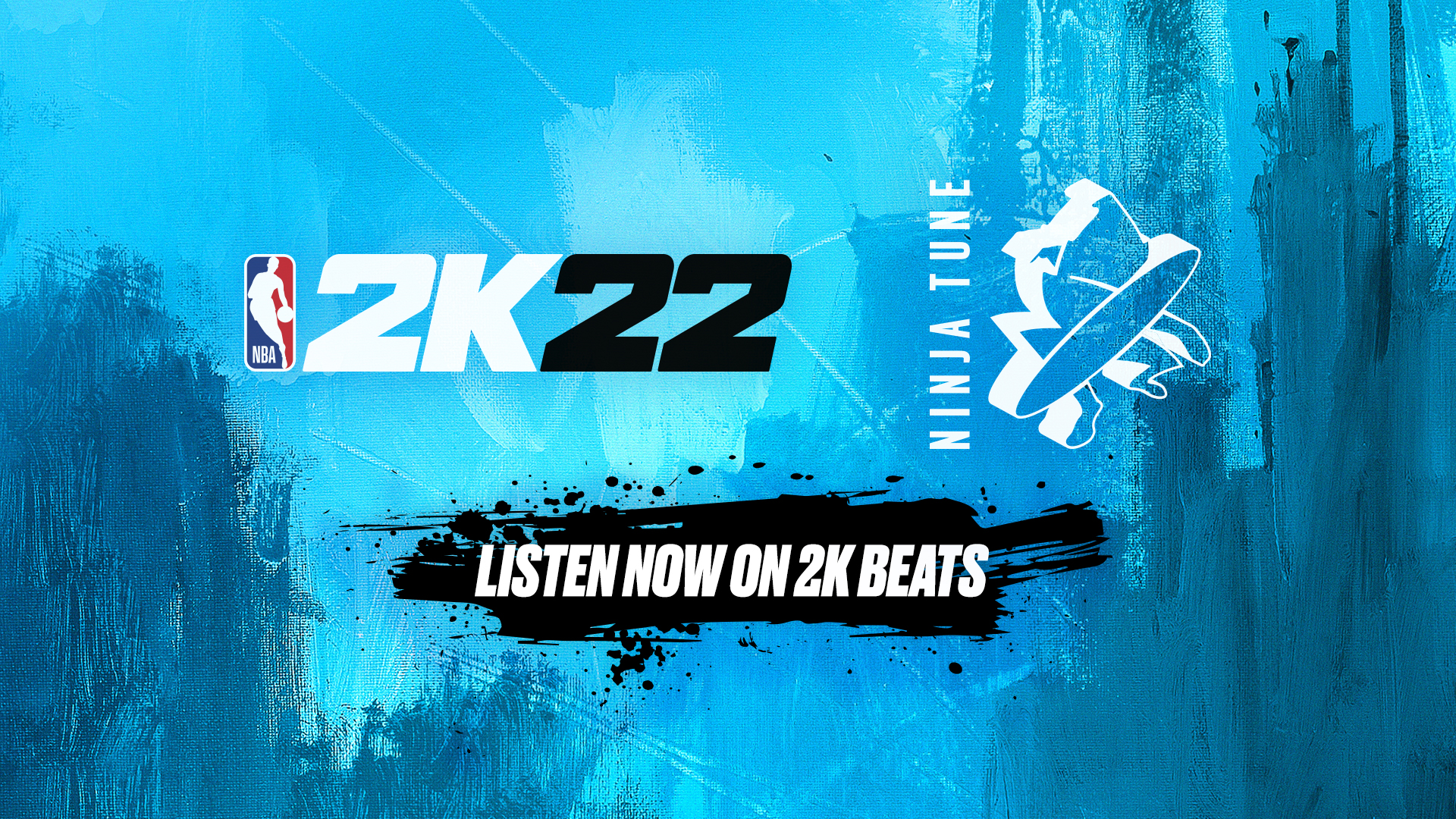 Every hero needs an anthem. Find yours this Season with an all-new track list courtesy of Ninja Tune. Spin, jam, and dash your way through the competition to energetic beats from world-renowned artists. We want you to feel empowered all Season long by providing you with the means to stay motivated and dominant on the court. Music has the power to create change, and we hope you use it to your advantage. 
See the full tracklist below:
Chrome Sparks & Reo Cragun - Blood
Weval - Changed For The Better
Tennyson - Feelwitchu
Little Dragon - Hold On
BRONSON ft. lau.ra - HEART ATTACK
Two Fingers - Fools Rhythm
Roots Manuva - Witness (1 Hope)
Andreya Triana - Gold (Nikitch Remix)
Jordan Rakei - Mind's Eye
Machinedrum ft. Freddie Gibbs - Kane Train
Lapalux - IAMSYS - Tape Intro
Park Hye Jin & Nosaj Thing - CLOUDS
CLOSING REMARKS
On your path to Legend status, you'll find a stockpile of rewards, special MyTEAM cards and consumables, and ultimately the power within. Channel your strength on the court and rise above to become a legendary competitor. Kevin Durant, Rui Hachimura, and Paolo Banchero have paved the way for you, but now it's your turn to fulfill your destiny. Enjoy all of the new additions to NBA 2K22 this Season and give your energy to an epic adventure!