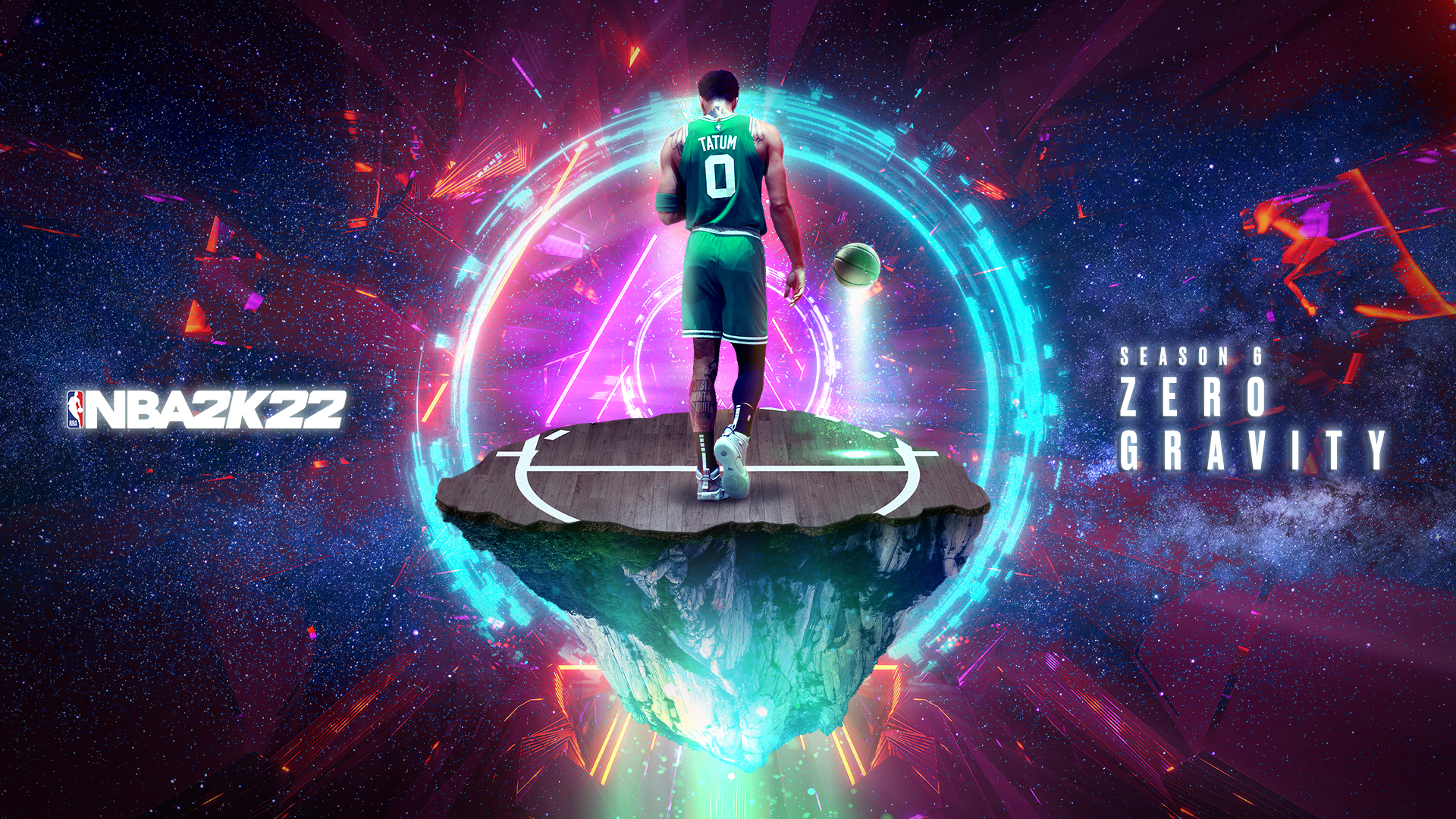 The NBA is filled with larger-than-life superstars, all searching for the most coveted piece of gleaming hardware in the galaxy: The Larry O'Brien Trophy. Jayson Tatum is among the many rising stars rocketing toward the Playoffs, powering the Boston Celtics into the stratosphere and beyond with dazzling weekly performances. The 24-year-old forward has otherworldly gifts and is shining brighter by the day—his star is far from burning out. All year, you've been blazing a trail of your own in NBA 2K22 and now it's time to push the limits of what's possible in MyCAREER, MyTEAM, and The W Online. In Season 6: Zero Gravity, stake your claim in The City and the Cancha Del Mar by competing against formidable opponents from around the world, finishing cosmic challenges, and earning spectacular rewards.
ALL-NEW MyCAREER UPDATES
Get ready for liftoff. As the Playoff picture heats up, so is NBA 2K22. We're six Seasons in and we're not taking our foot off the gas, bringing you fresh environment updates, more original rewards, and a new event to keep you engaged around The City and the Cancha Del Mar. For the next six weeks, blast off on an epic journey through the NBA 2K22 universe, and traverse its many courts in search of the best competition in the galaxy. Before you go, we're sending you into space with a reminder to complete various quests, so you can climb your way to Level 40 this Season. Keep your eyes on the prize–a Bunny Suit–and avoid getting sucked into any distracting black holes that may cause you to spiral out of control. If you maintain your course, you'll be rewarded with a new animated item, a lightning BMX, and more apparel for your wardrobe. There's much to look forward to this season, especially a new excursion event.
WIELD THE POWER OF THE GODS
Conquer worlds in Season 6 and thrash anyone who stands in your way. This season, we're bringing galactic events your way with Power Up for current-gen.
For 36 hours, current-gen players can unleash their strength in Power Up and channel it on the court by destroying the opposition. During the event, you'll find yourself on a picturesque Greek Island court that will host 5v5 style games. Using REC matchmaking, clash with other players for powerful rewards and be the envy of the cosmos. Earn godly apparel rewards such as the Lightning Power Jump Suit, Fire Power Jump Suit, and Earth Power Jump Suit, plus a Power-Up Backpack and 2-Hour XP Tokens. Prove your worth and maybe you'll find favor from Olympus.
ALL-NEW MyTEAM UPDATES
Are you ready for Zero Gravity in MyTEAM? With 99 overall Dark Matter reward cards spreading throughout the mode, there are great ways for new and existing MyTEAM players to upgrade their best lineups and expand their collections.
PLAYOFF MOMENT AGENDAS
All year, MyTEAM has brought what is going on in the real NBA into NBA 2K22 with Moments player cards and agendas. Right now, you can finish up the final Moments of the Month Agenda set to earn Dark Matter Ja Morant before it ends on April 12th, because once the Play-In Tournament begins for the NBA, moments in MyTEAM will be changing.
For the 2022 NBA Playoffs, MyTEAM will be following the action with new Lifetime Agenda Groups for each round. These groups will expand as postseason games are played for you to match stat lines and play along with your collection. After the conclusion of the Play-In Tournament and the subsequent rounds, the Agenda Group will be completed with Moments Cards for all the teams moving on in the Playoffs!
ZERO GRAVITY, BUT SO MANY REWARDS
Also starting next week, 25 new reward players will begin dropping in MyTEAM! On Monday April 11th, get started with a 74 overall, Gold, Giannis Antetokounmpo—by far not the most impressive reward card in MyTEAM, but the NBA Finals MVP's rookie card is required to get you started on this 5-week journey.
After Giannis, a new card will drop in MyTEAM every weekday. To earn it, you will need to complete an Agenda using the previous day's card, with each card increasing in overall rating as you go. Earn new and familiar names, including cards for Lonzo Ball, Shaquille O'Neal, Luka Dončić, Devin Booker, and making his 2K22 MyTEAM debut, Smush Parker.
With this event ending with a 99 overall Dark Matter card, you will not want to get too far behind earning these players. Each day's agendas will be easy, but some of these players will be powerful additions to many MyTEAM Lineups!
INVINCIBLE DIRK NOWITZKI
There's more to MyTEAM than collecting cards, but this season, the top-collectors in MyTEAM will be the first to encounter the first Invincible card of 2K22. Anyone who can collect 4,000 cards will be taking home Invincible Dark Matter Dirk Nowitzki! As a 14-time All-Star, NBA Champion, and former MVP, Dirk is one of the all-time greats and opened many doors for international players in the NBA. The German native's patented and nigh unguardable fade-away jump shot became iconic through the years.
There is one other reward for collecting 4,000 cards and completing the Collector Level Lifetime Agenda Group—an absolutely epic 80-card pack which contains every Hall of Fame badge. We can't wait for our top collectors to add Dirk to their collections, and to see how certain badge-unlocked cards are customized like Glitched, NBA 75, and Power Within cards. To everyone about to hit this mark, an early congratulations to you!
DARK MATTER REWARDS
Back to Zero Gravity, Season 6's Level 40 reward in MyTEAM is a rookie that made quite the impression on the league and MyTEAM players this year. Representing the Oklahoma City Thunder, Dark Matter Josh Giddey can lead your team when you reach Level 40! For those who have not encountered this future unicorn, Giddey is a 6'8" guard who can play the point in MyTEAM and has a knack for making impressive passes. With this 99 overall card unlocking his full potential, look to take on the best players from the past and present with Level 40 Giddey in MyTEAM!
Beyond Giddey, look to add these new Dark Matter reward cards throughout MyTEAM in Season 6!
Unlimited - Bob Netolicky
Clutch Time 100 Wins - James Worthy
Clutch Time Wheel Spin - Albert King
Ascension - Jerry Sloan
Triple Threat Vault - Richard Dumas
Triple Threat Online - Bradley Beal
MyTEAM: Draft - Mack Calvin
Token Rewards - Dikembe Mutombo
You may have noticed that no player was listed for Zero Gravity's Limited reward for collecting all 6 rings. We've heard the community's feedback on the players chosen for the Limited rewards this year and for Season 6, we want to bring you into the decision-making process for this Dark Matter player. In a couple of weeks, we will hold polls to help decide the player, so be on the lookout for more details on our official Twitter @NBA2K_MyTEAM, and in the MyTEAM Community Hub. Until then, get into Limited each weekend and earn your rings!
One more thing, the Limited reward player will not be a part of Beyond 40 this Season, but that end-of-Season Option Pack will contain all Dark Matters for the first time!
THE W ONLINE
WNBA action returns in one month; head to The W Online and prepare for the league's 26th season by competing against players from around the globe, and earning all-new rewards! The WNBA has seen some amazing talent walk through its doors over the past two-and-a-half decades, including former player and now-assistant coach Katie Smith, as well as former No. 3 overall pick Cheryl Ford. Before Smith transitioned to coaching, she had a 14-year career in the WNBA, made seven All-Star appearances, won two WNBA championships, and was crowned WNBA Finals MVP in 2008. Ford also hoisted the WNBA championship trophy in 2003, 2006, and 2008. In Season 6: Zero Gravity, add WNBA legends, Smith and Ford, to your contact list by reaching the Hall of Fame tier. In addition, earn new 2K Breakthrough Gear, an Extra Badge Point, VC, a Seasonal Clothing Bundle, and a Custom Green Release. Load up for another season of NBA 2K22 and the start of the WNBA season.
COLORS STUDIOS SOUNDTRACK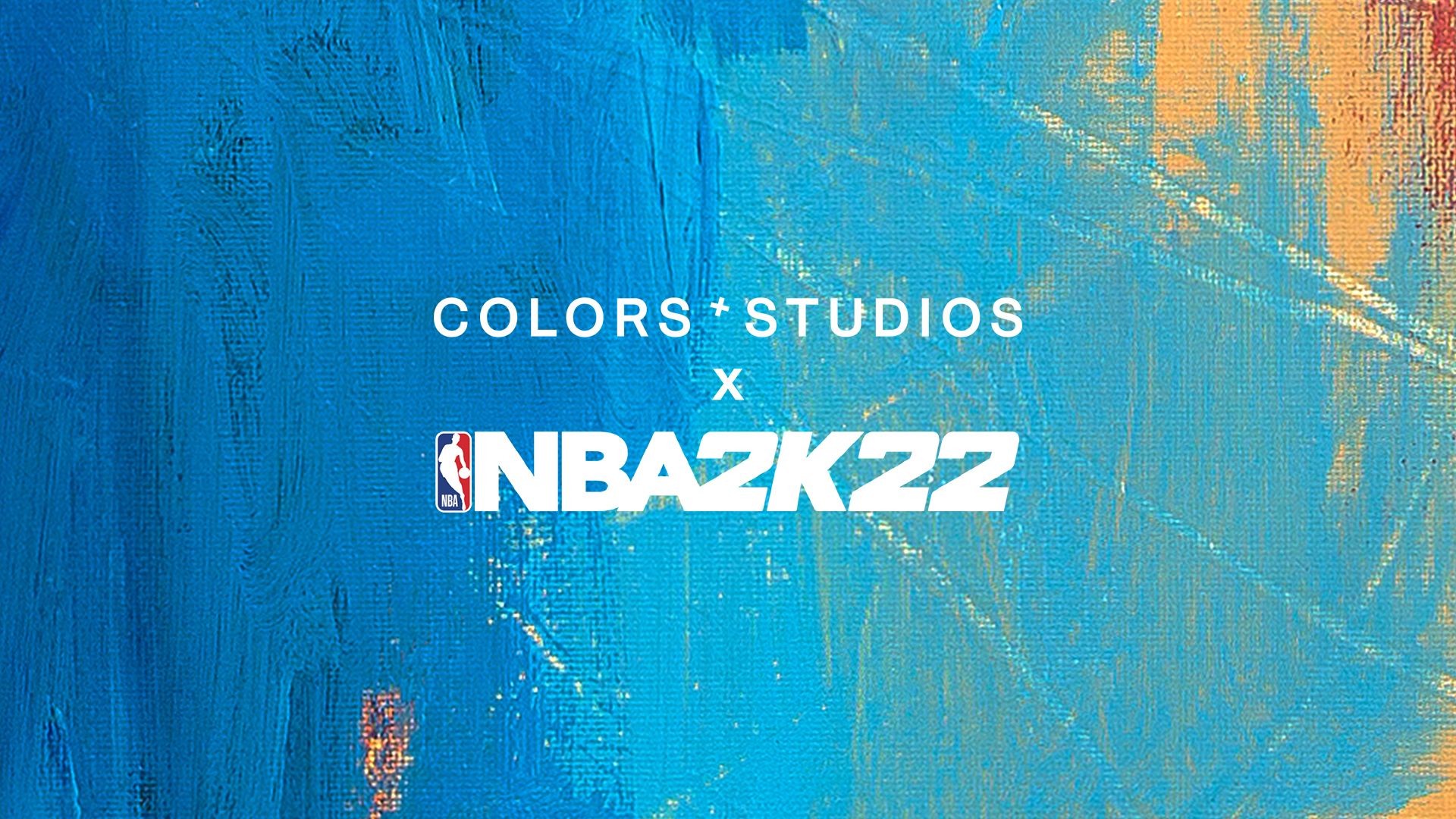 Shoot for the stars with a soundtrack that's out of this world, courtesy of Colors Studios. Featuring gifted musicians from different continents, feel their rhythmic flows on the court and around The City. Colors Studios is committed to promoting unique and distinguishable sounds, unwilling to categorize or place its artists in a box. The NBA has adopted a positionless mentality and it's very much in line with the values of Colors Studios, making them a perfect complement to NBA 2K22.
See the full tracklist below:
Krisy – Bounce – A COLORS SHOW
MANIK MC – Muckiest – A COLORS SHOW
ENNY & Baker Aaron – Nu Normal – A COLORS ENCORE
Jelani Blackman – Hello – A COLORS SHOW
La Dame Blanche – Venemo – A COLORS SHOW
Smino – Rice N Gravy – A COLORS SHOW
Ojerime – Often Enough – A COLORS SHOW
CLOSING REMARKS
Your destiny is written in the stars. Gain inspiration from Jayson Tatum as he streaks toward the Playoffs and discharge a supernova of your own, shaking everything in your wake. Season 6 consists of intergalactic rewards, challenges, and even an island getaway, and it's waiting to be explored.
Click here and take our 10-minute NBA 2K Community Survey to let us know what you thought about last Season, and what you would like to see in the future! The survey will be open through April 11, 2022.