Following the All-Star break, the NBA picked up right where it left off with a flurry of highlight reel plays, nail-biting matchups, and jaw-dropping performances from some of the league's marquee players. In the last two weeks, we've seen a handful of 50-point games from electrifying guard Ja Morant, crossover specialist Kyrie Irving, and versatile wing scorer Jayson Tatum. Right now, we're witnessing some of the best basketball of the year—and it's not even the postseason yet! We've still got another month or so until the playoffs begin (and hopefully more must-see matchups) as the regular season comes to a close. In the meantime, let's break down some of the notable performances we've seen recently and how they've impacted the player ratings.
Ja Morant, Guard, Memphis Grizzlies: 93 OVR (+1)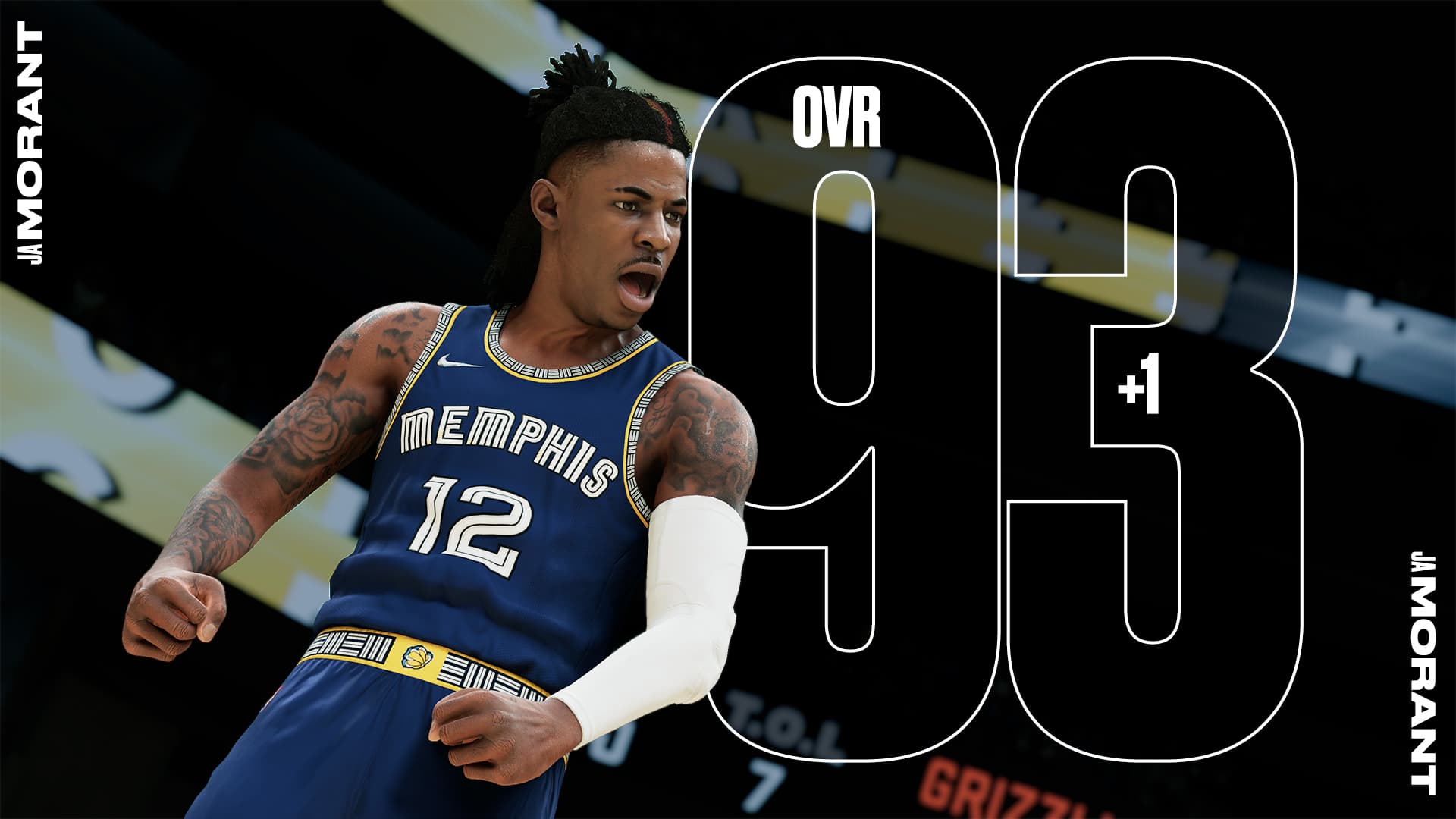 Regardless of the sport, it's pretty uncommon for a player to be as universally liked as Ja Morant. In his third season, the 22-year-old Grizzlies star is captivating spectators around the world with his raw athleticism and game-changing abilities, drawing comparisons to NBA legend Allen Iverson and vintage Derrick Rose. While those comparisons are undoubtedly compliments, Morant plays with a unique style that's true to himself, which is why so many NBA fans respect the All-Star guard. On February 28, Morant scored an efficient 52 points by hitting 22 of his 30 shot attempts, leading his squad to victory against the San Antonio Spurs. The Grizzlies are currently second in the Western Conference and it's largely due to Morant's contributions this season. He's a frontrunner for the Most Improved Player award, but he deserves Most Valuable Player votes as well.
James Harden, Guard, Philadelphia 76ers: 92 OVR (+2)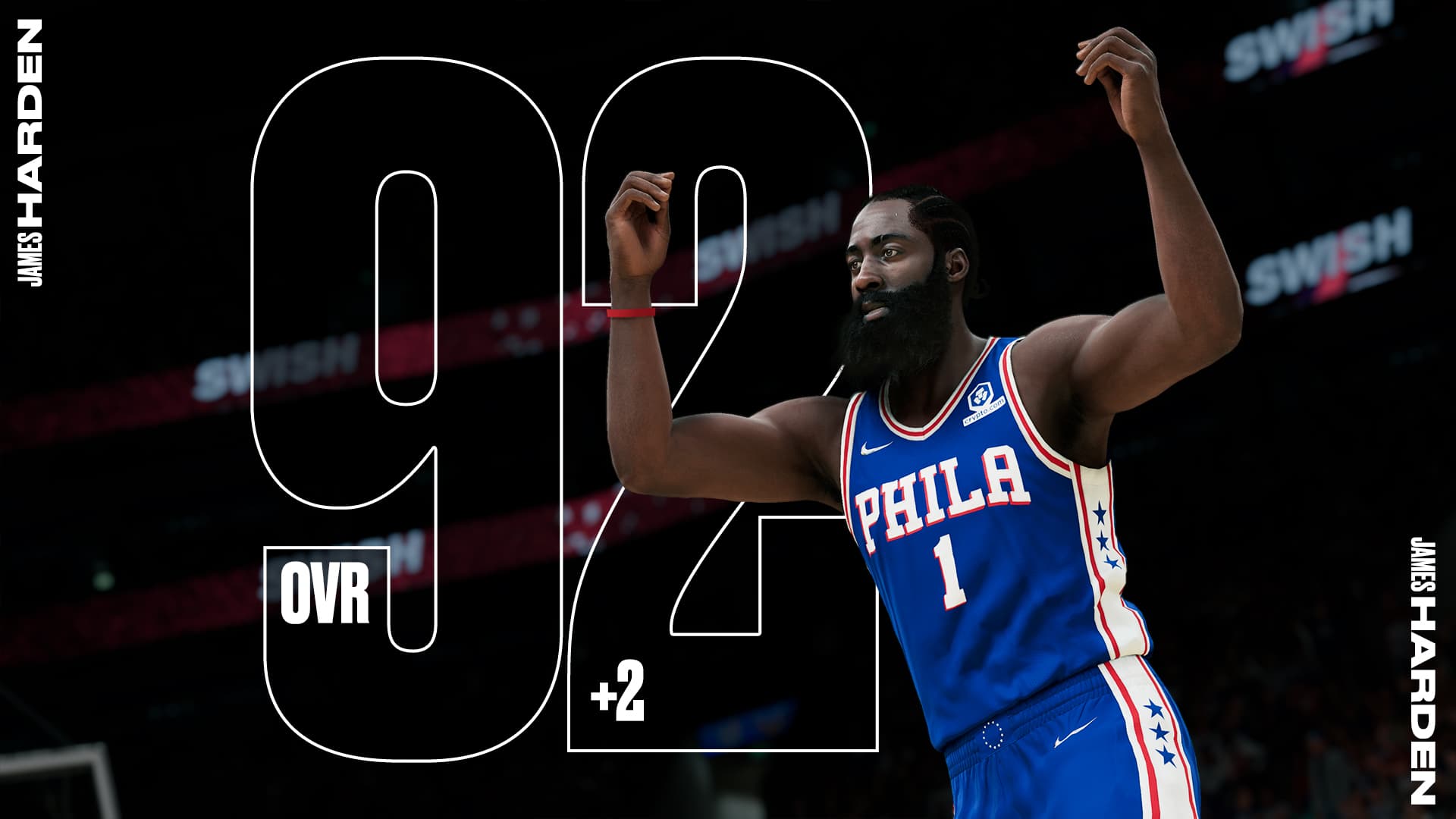 Since joining the Sixers, James Harden looks happy and right at home next to Joel Embiid. In five games with the team, the former Arizona State Sun Devil has posted 25 points or more in four contests and flirted with triple-doubles consistently. Harden's always been a stat-sheet stuffer, but more importantly, the Sixers have won every game he's played in thus far. Sitting as the current No. 2 seed in the East, Doc Rivers' squad has a better chance than ever to make a run at the Larry O'Brien Trophy. Harden's playmaking has elevated the performance of his teammates, most notably Tyrese Maxey, and has the team looking like a powerhouse.
Kyrie Irving, Guard, Brooklyn Nets: 91 OVR (+1)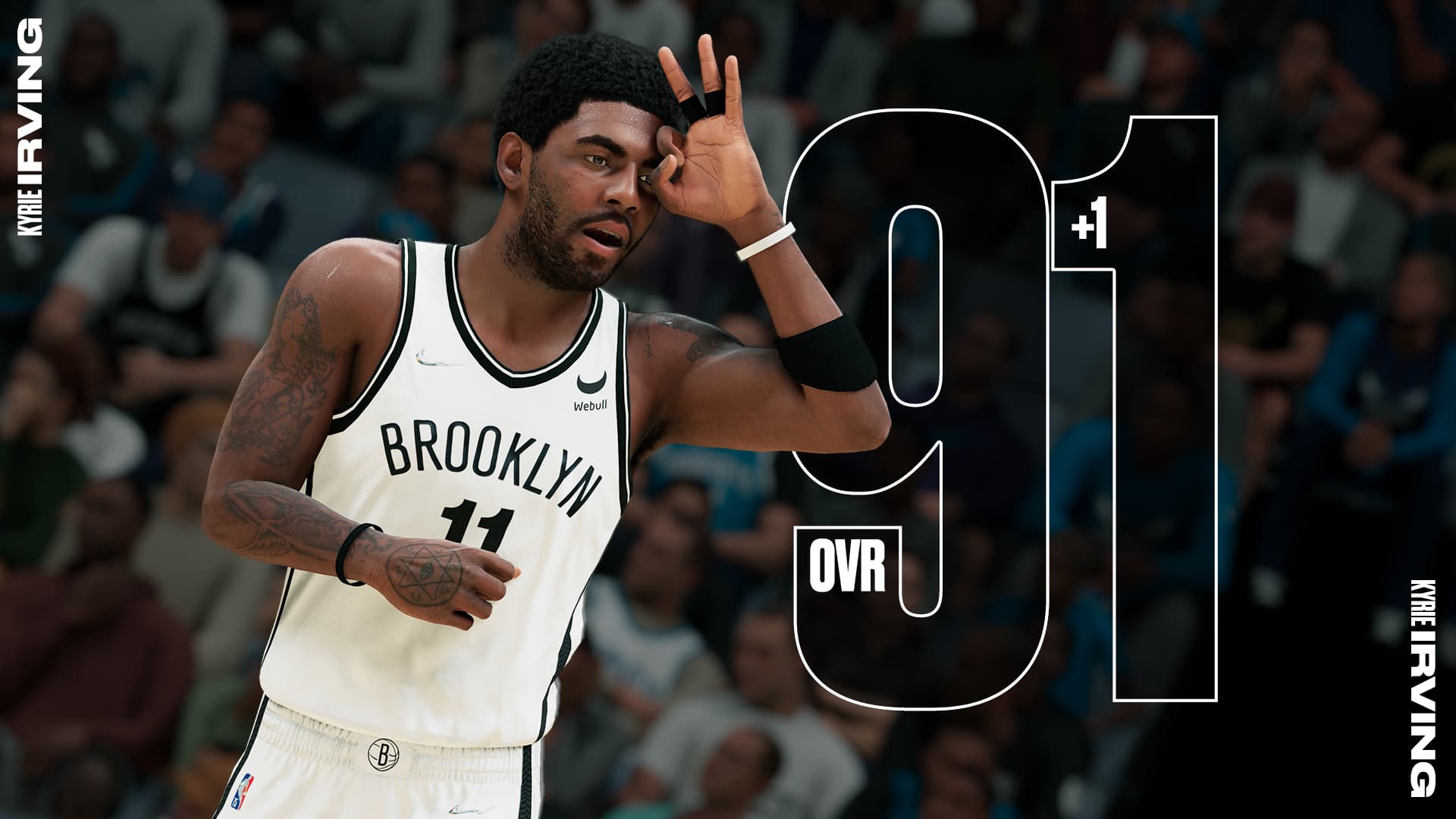 Kyrie Irving's talent has never been in question, but lately he's been reminding everyone why he's one of the best point guards to ever dribble a basketball. He's shifty, crafty, elusive with or without the ball, and you can't help but watch in awe as he dazzles in the lane. In his last three games, Irving has posted 50 points, 19 points, and 38 points respectively, lighting up opposing defenses with efficient field goal percentages. This year, Irving is averaging an absurd 47.7 field goal percentage, making nearly half of all his shot attempts. There's a good chance the Nets make the playoffs, but they'll need Irving to make it a reality.
Jayson Tatum, Forward, Boston Celtics: 89 OVR (+1)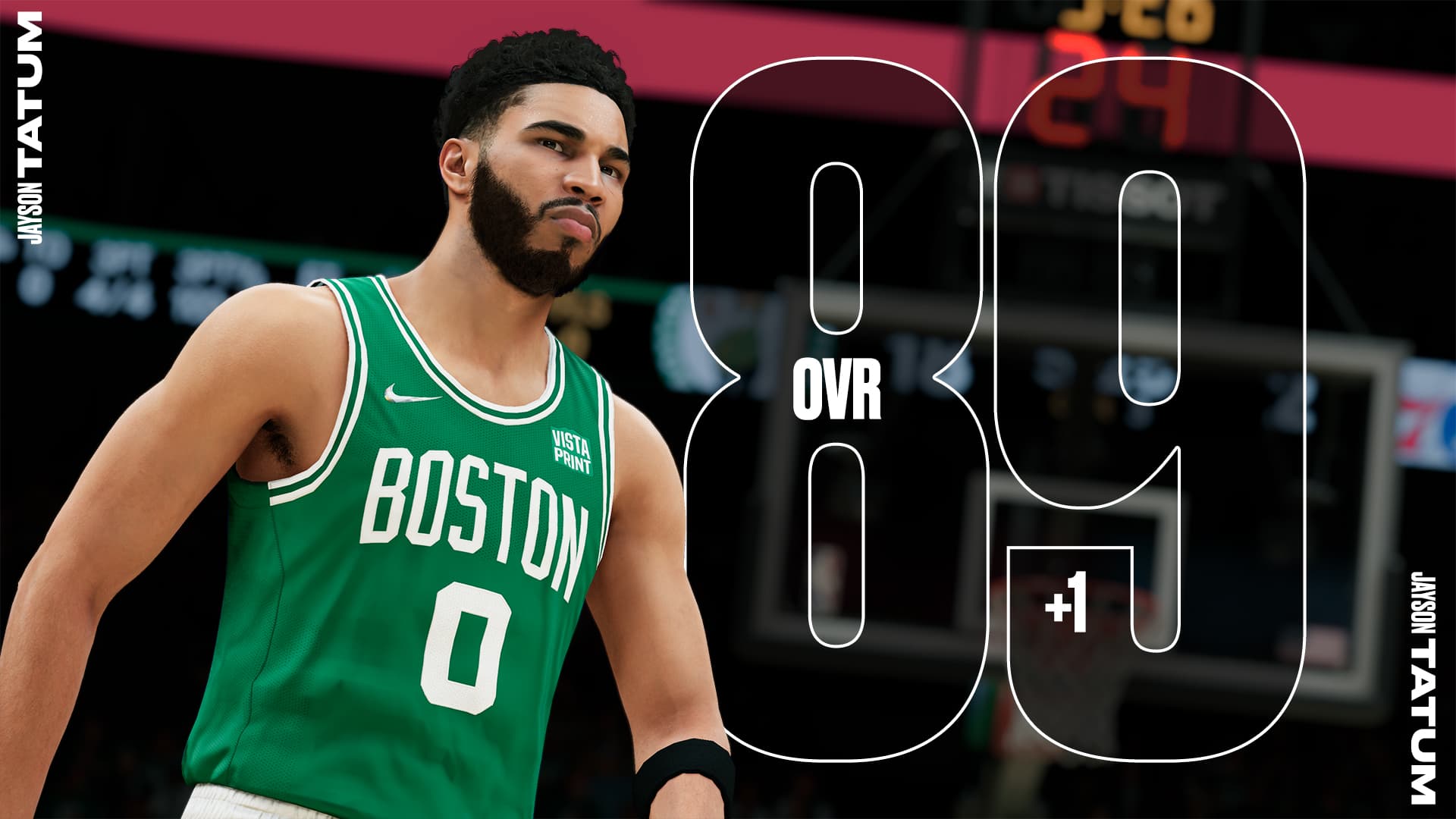 Tatum just turned 24 years old earlier this month, but even as one of the youngest players in the league, he's already become a three-time All-Star and one of the league's elite. Capable of wearing down defenders in the post, lulling them to sleep with his handles, or getting physical in the paint, Tatum is a versatile wing player oozing with potential. When the former Duke Blue Devil was drafted five years ago, it didn't take him long to mature as a scorer and quality defender in the NBA. Year after year, Tatum has continued to build on his skills by improving in all facets of the game. During a primetime game against the Nets recently, Tatum dropped a season-high 54 en route to a six-point win, despite going toe-to-toe with a healthy Kevin Durant. Tatum is too good to fly under the radar anymore, and he's proving with each game that he's a born leader.
View the full list of player ratings below:
Atlanta Hawks:
Bogdan Bogdanović: 80 OVR (+2)
De'Andre Hunter: 78 OVR (+1)
Onyeka Okongwu: 77 OVR (+1)
Brooklyn Nets:
Kyrie Irving: 91 OVR (+1)
Bruce Brown: 76 OVR (+1)
Blake Griffin: 76 OVR (-1)
Patrick Mills: 74 OVR (-2)
David Duke Jr.: 71 OVR (-2)
Boston Celtics:
Jayson Tatum: 89 OVR (+1)
Al Horford: 80 OVR (+1)
Grant Williams: 75 OVR (+1)
Payton Pritchard: 75 OVR (+2)
Daniel Theis: 74 OVR (+1)
Charlotte Hornets:
LaMelo Ball: 85 OVR (-1)
Terry Rozier III: 82 OVR (+1)
Montrezl Harrell: 80 OVR (-1)
Chicago Bulls:
Nikola Vucevic: 83 OVR (-1)
Coby White: 79 OVR (+1)
Derrick Jones Jr.: 76 OVR (-1)
Cleveland Cavaliers:
Darius Garland: 88 OVR (+1)
Cedi Osman: 78 OVR (+1)
Brandon Goodwin: 75 OVR (+1)
Dallas Mavericks:
Jalen Brunson: 81 OVR (-1)
Spencer Dinwiddie: 80 OVR (+1)
Dorian Finney-Smith: 78 OVR (+2)
Maxi Kleber: 75 OVR (+1)
Denver Nuggets:
DeMarcus Cousins: 78 OVR (+3)
Bryn Forbes: 75 OVR (+1)
Nah'Shon Hyland: 75 OVR (+1)
Austin Rivers: 74 OVR (+1)
Facundo Campazzo: 73 OVR (-2)
Detroit Pistons:
Cade Cunningham: 81 OVR (+1)
Cory Joseph: 73 OVR (-2)
Isaiah Livers: 71 OVR (+2)
Golden State Warriors:
Andrew Wiggins: 84 OVR (-1)
Klay Thompson: 83 OVR (-3)
Jonathan Kuminga: 79 OVR (+2)
Kevon Looney: 78 OVR (+1)
Otto Porter: 77 OVR (-1)
Nemanja Bjelica: 76 OVR (-2)
Moses Moody: 75 OVR (+3)
Houston Rockets:
Christian Wood: 84 OVR (+1)
Jalen Green: 80 OVR (+4)
Eric Gordon: 76 OVR (-1)
Dennis Schröder: 76 OVR (-2)
Garrison Mathews: 75 OVR (-1)
Josh Christopher: 75 OVR (-1)
Indiana Pacers:
Malcolm Brogdon: 84 OVR (+1)
Buddy Hield: 79 OVR (+2)
Isaiah Jackson: 77 OVR (+1)
Jalen Smith: 77 OVR (+1)
Lance Stephenson: 75 OVR (-1)
Los Angeles Clippers:
Ivica Zubac: 78 OVR (+1)
Luke Kennard: 77 OVR (+1)
Amir Coffey: 77 OVR (-1)
Los Angeles Lakers:
Russell Westbrook: 78 OVR (-1)
Malik Monk: 77 OVR (-1)
Trevor Ariza: 72 OVR (-1)
Memphis Grizzlies:
Ja Morant: 93 OVR (+1)
Desmond Bane: 82 OVR (-1)
Steven Adams: 82 OVR (+1)
Brandon Clarke: 78 OVR (-1)
John Konchar: 75 OVR (-1)
Miami Heat:
Jimmy Butler: 93 OVR (-1)
Bam Adebayo: 87 OVR (+1)
Max Strus: 76 OVR (-1)
Gabe Vincent: 76 OVR (+1)
Milwaukee Bucks:
Grayson Allen: 76 OVR (-1)
Serge Ibaka: 76 OVR (-1)
DeAndre Bembry: 74 OVR (-1)
Wesley Matthews: 71 OVR (-1)
Lindell Wigginton: 69 OVR (+2)
Minnesota Timberwolves:
Karl-Anthony Towns: 89 OVR (+1)
Anthony Edwards: 84 OVR (-1)
D'Angelo Russell: 83 OVR (+1)
Jarred Vanderbilt: 79 OVR (-1)
Naz Reid: 77 OVR (+1)
Jaden McDaniels: 76 OVR (+1)
Taurean Prince: 75 OVR (+2)
New Orleans Pelicans:
C.J. McCollum: 86 OVR (+2)
Brandon Ingram: 85 OVR (+1)
Jonas Valančiūnas: 83 OVR (-1)
Naji Marshall: 74 OVR (+3)
New York Knicks:
R.J. Barrett: 85 OVR (+2)
Immanuel Quickley: 77 OVR (+2)
Taj Gibson: 75 OVR (+1)
Obi Toppin: 75 OVR (-1)
Oklahoma City Thunder:
Shai Gilgeous-Alexander: 88 OVR (+1)
Isaiah Roby: 76 OVR (+2)
Tre Mann: 76 OVR (+2)
Lindy Waters III: 69 OVR (+2)
Orlando Magic:
Wendell Carter Jr.: 83 OVR (+1)
Chuma Okeke: 76 OVR (+1)
Terrence Ross: 75 OVR (-2)
Philadelphia 76ers:
James Harden: 92 OVR (+2)
Tyrese Maxey: 84 OVR (+3)
Tobias Harris: 83 OVR (-2)
Georges Niang: 74 OVR (+2)
Danny Green: 73 OVR (-1)
Furkan Korkmaz: 73 OVR (-1)
Phoenix Suns:
Deandre Ayton: 85 OVR (-1)
Cameron Johnson: 81 OVR (+2)
Jae Crowder: 77 OVR (+1)
Cameron Payne: 77 OVR (+1)
Landry Shamet: 75 OVR (+1)
Aaron Holiday: 75 OVR (+1)
Torrey Craig: 74 OVR (-1)
Portland Trailblazers:
Anfernee Simons: 81 OVR (+1)
Josh Hart: 78 OVR (-2)
Trendon Watford: 75 OVR (+1)
Brandon Williams: 75 OVR (+8)
Ben McLemore: 73 OVR (-2)
Greg Brown: 72 OVR (-1)
C.J. Elleby: 71 OVR (-1)
Keon Johnson: 71 OVR (-2)
San Antonio Spurs:
Jakob Poeltl: 80 OVR (+1)
Lonnie Walker IV: 76 OVR (+2)
Josh Richardson: 76 OVR (-1)
Keita Bates-Diop: 75 OVR (+1)
Zach Collins: 74 OVR (-1)
Sacramento Kings:
De'Aaron Fox: 84 OVR (+1)
Richaun Holmes: 77 OVR (-1)
Jeremy Lamb: 75 OVR (-1)
Chimezie Metu: 75 OVR (-1)
Justin Holiday: 73 OVR (-1)
Maurice Harkless: 72 OVR (-1)
Toronto Raptors:
Fred VanVleet: 85 OVR (-1)
Pascal Siakam: 85 OVR (-1)
OG Anunoby: 81 OVR (-1)
Gary Trent Jr.: 79 OVR (-1)
Precious Achiuwa: 76 OVR (+1)
Khem Birch: 76 OVR (-1)
Malachi Flynn: 75 OVR (+2)
Thaddeus Young: 75 OVR (-1)
Dalano Banton: 72 OVR (-1)
Utah Jazz:
Rudy Gobert: 89 OVR (-1)
Mike Conley: 82 OVR (-1)
Bojan Bogdanović: 81 OVR (+1)
Rudy Gay: 76 OVR (-1)
Danuel House: 73 OVR (+2)
Trent Forrest: 71 OVR (-2)
Washington Wizards:
Kyle Kuzma: 83 OVR (+1)
Deni Avdija: 77 OVR (+1)
Kentavious Caldwell-Pope: 76 OVR (+1)
Raul Neto: 75 OVR (+1)
Ish Smith: 75 OVR (+2)
Tomas Satoransky: 73 OVR (+1)