NBA 2K22 is dedicated to delivering the most authentic experience for you to live out your hoop dreams as an NBA superstar, but how do you bring that vision to life? Whether you're new to the NBA 2K franchise, or returning after a brief hiatus, familiarizing yourself with the game modes, features, and controls can take some time, but we're here to help. Before you start your journey as an NBA prospect, you'll need to create a MyPLAYER in MyCAREER.
MyCAREER is an all-encompassing, immersive game mode that places you in the shoes of an aspiring NBA prospect, aka your MyPLAYER, that you control down to the smallest detail. Choosing to create a player that resembles your likeness or craft an entirely new identity is up to you, but it's just the first of the many choices you'll need to make when building your ideal athlete. 
There's a lot that goes into creating the next face of the NBA, and it might feel overwhelming if you don't know where to start. It's tempting to create a well-rounded player, but balancing attribute points won't result in a bonafide specialist who commands the court without any weaknesses. Below, we'll detail some of the notable MyPLAYER archetypes on New Gen, how to allocate points when establishing key attributes, and the importance of badges and takeovers so you can create the player that best suits your style.
GETTING STARTED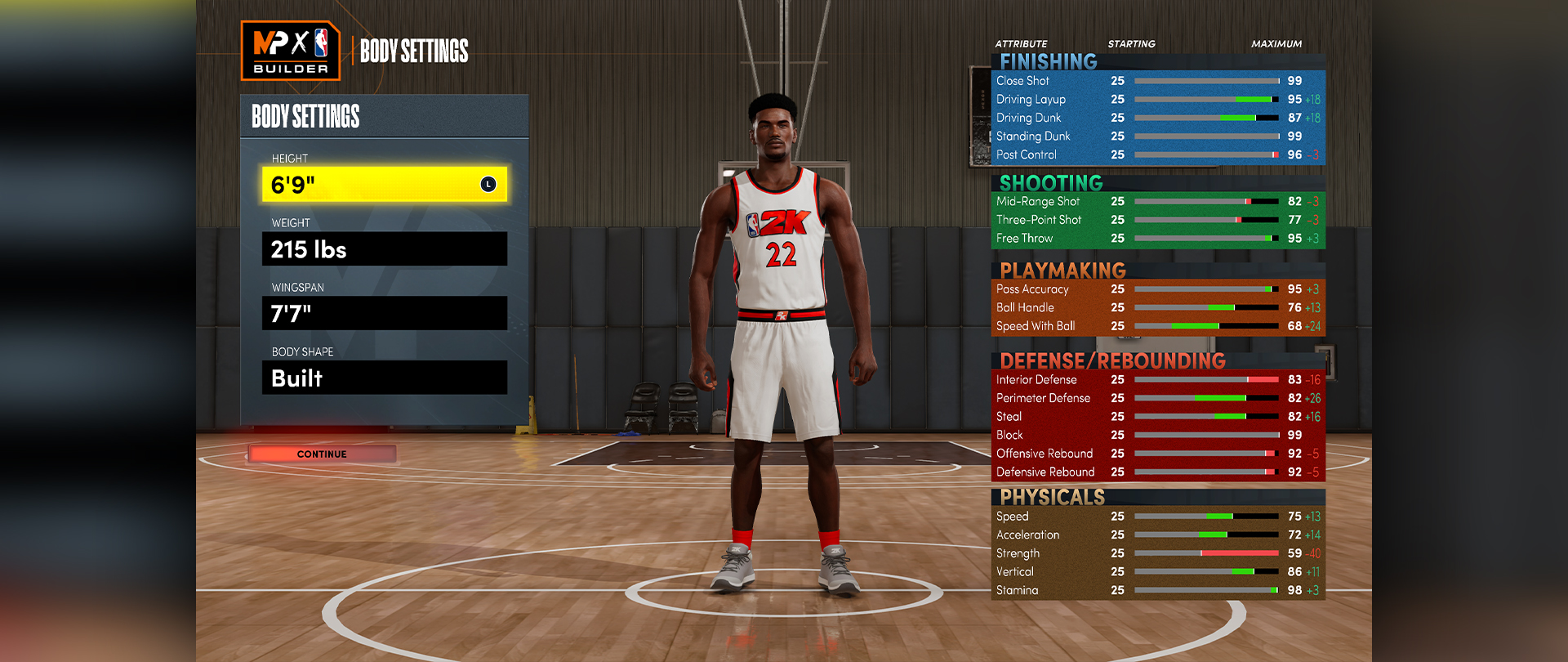 Upon starting a new MyCAREER campaign, you'll begin by choosing a name, position, handedness, and jersey number for your star-in-the-making. Shaping a player that resembles your likeness with detailed facial features or hair color is your call, but these minute features won't affect your archetype. Next, it's time to specify your body settings: height, weight, wingspan, and body shape—which will meaningfully impact your abilities. All of these physical attributes factor into how your player will move and feel on the court, so as fun as it might be to create a 7'3", 290-pound center, consider making a player you'll enjoy competing with.
As you tweak and tinker with your player's dimensions, you'll notice their attribute points fluctuate on the right side of your screen. Don't worry too much about the points while determining your size and weight, but be cognizant of them. Having a longer wingspan will improve rebounding and defense, but it'll also negatively impact your shooting capabilities. When you've finished the initial step of the MyPLAYER process, it's finally time to get into the nitty gritty stuff.
DEFINING YOUR ROLE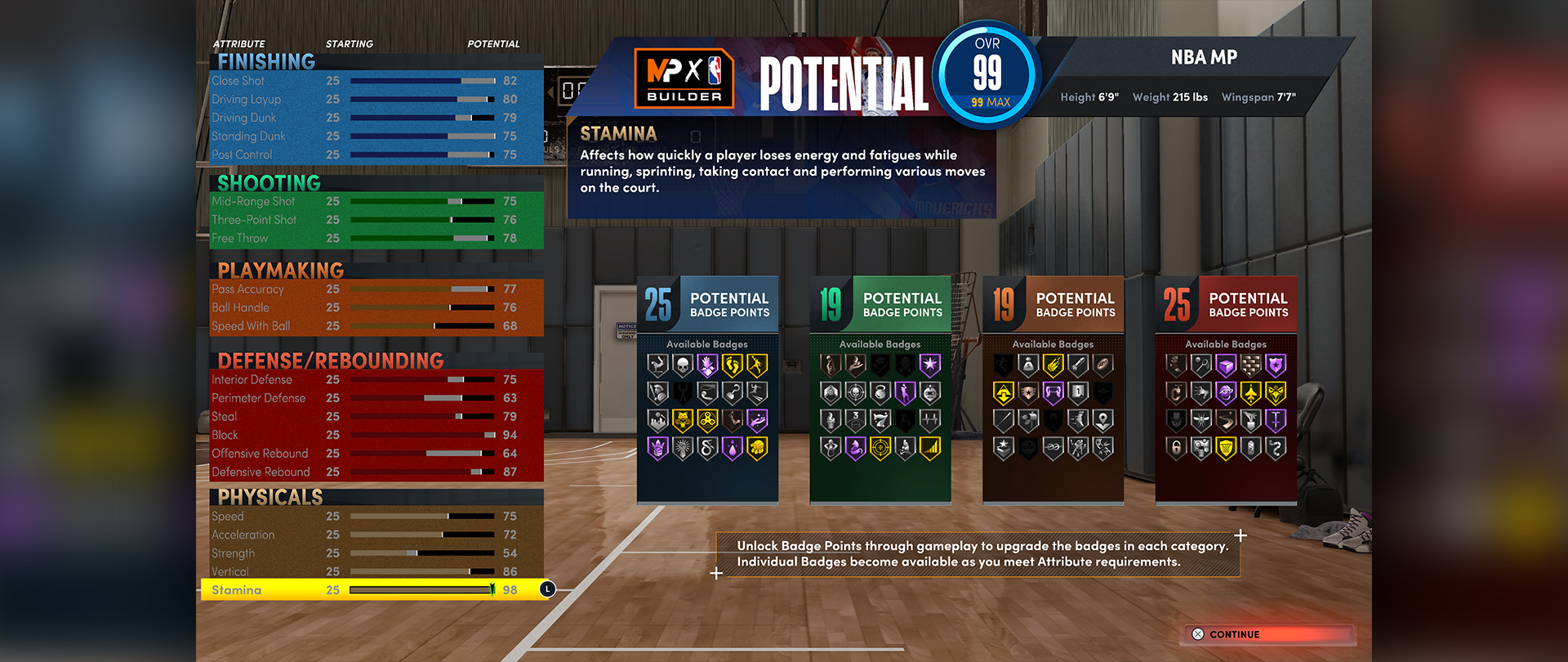 Once you've put a face and name to your future all-star, it's time to build out their attributes and clearly define your MyPLAYER's role. Each position in NBA 2K22 has its own set of strengths and weaknesses. For example, smaller players such as point guards and shooting guards are going to naturally be a little quicker and faster than the bigs. However, you'll need to distribute points wisely to fine-tune your MyPLAYER's skill set. Overall, there are a multitude of archetypes and combinations, but you won't know yours until you've finished adding points to key attribute rows. Let's break down some of the notable archetypes for each position and what that'll mean for your MyPLAYER's skill set.
POINT GUARDS
Offensive Threat 1: Sharpshooting, Slashing - Steph Curry is changing the game of basketball both in real life and in NBA 2K22. More and more players are trying to extend their range to become lethal scorers. Consider the Offensive Threat 1 archetype if you're trying to model your game after the former MVP and three-time champion. Sharpshooting and Slashing will be the foundation of the build, emphasizing scoring from anywhere on the court. If you want the Curry package, load up on Shooting and Finishing, specifically Three-Pointers, Driving Layup, and Mid-Range Shot to become an offensive threat. Spend at least 80 points in these categories to make offense your foundation.
Scoring Machine: Sharpshooting, Defending - If you're interested in knocking down mid-range jumpers and having a decent three-point percentage, the Scoring Machine archetype is the perfect build for a well-balanced approach. When assigning attribute points, it's key that you give your MyPLAYER a rating of 80 or more on Driving Layup, Driving Dunk, Mid-Range Shot, Three-Point Shot, and Ball Handling. 
Playmaking Shot Creator: Playmaking, Shot Creating - Similar to the Scoring Machine build, the Playmaking Shot Creator requires an emphasis on Finishing and Scoring, but passing accuracy and ball handling will be what set you apart. While you'll have the ability to score in the lane, your primary focus will be setting up your teammates and getting them involved. Spend the majority of your attribute points on shooting and playmaking, then spread the rest across finishing and defense.
SHOOTING GUARD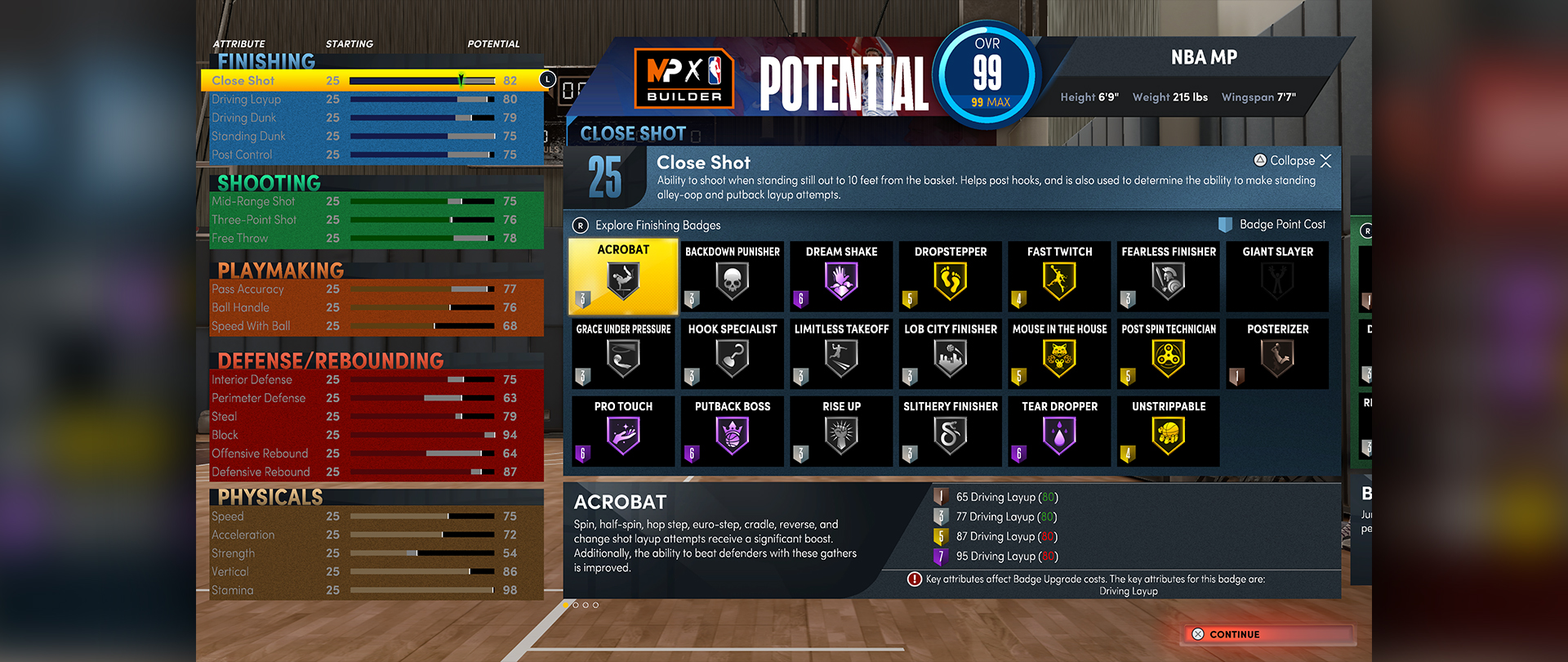 Facilitating 3-Level 2-Way: Defending, Slashing - Ideally, this build resembles all-star shooting guard Klay Thompson. Be a spot-up shooter in the NBA and dominate on the defensive end by getting your hands in the passing lane to force key turnovers. There aren't enough players who can get it done on both ends of the court anymore, which is why you'll be a valued player on any team. Pro tip: if this is the route you want to go, make sure your MyPLAYER has a long wingspan when editing your physical build. To build this player, have 95+ on Close Shot, Driving Layup, Driving Dunk, 85+ on Mid-Range and Three-Point Shot, and 85+ Pass Accuracy and Ball Handle, before spreading the remaining points across defense. Your Perimeter Defense, Steal, and Block should range anywhere from 78-90.
Inside Out Playmaker: Sharpshooting, Playmaking - You don't have to score the ball to make an impact on the game. Look to get your teammates involved by setting them up through pick and rolls and try to draw the attention of the defense to space the floor. If driving to the rack is your preferred method of scoring, the Inside Out Playmaker archetype is up your alley. When the scouting report says you're a strong finisher at the hoop, defenders will naturally collapse toward you to try and block your shot, leaving teammates open on the wings. Master the art of facilitating the offense and dissecting your opponents' weaknesses from within the paint.
SMALL FORWARD
3-Level Scorer: Sharpshooting, Slashing - Imagine LeBron James, but without his unbelievable knack for dishing out dimes like Magic Johnson or his superhuman talent for chase-down blocks. What this archetype lacks in playmaking and defensive ability, it makes up for by being an efficient scorer from virtually anywhere on the court. Let your point guard find you cutting to the basket for an easy backdoor layup, beyond the arc, or create a shot of your own with a hesitation move into a mid-range jump shot. The key to this archetype is having at least 80 attribute points for Driving Dunk, Close Shot, Driving Layup, Mid-Range Shot, Three-Point Shot, Ball Handle, Speed With Ball, Defensive Rebound, Perimeter Defense, and making sure you show some love to the physical categories.  
2-Way Finisher: Slashing, Rim Protector - Like contact? If you're the kind of player who throws yourself into a challenge rather than avoiding it, this archetype is for you. On offense or defense, make your presence felt by colliding with opponents on your way to the hoop, finishing through fouls, or meeting them at the rim for a vicious block. Pad your defensive attributes to ensure you're fulfilling your job as the enforcer.
POWER FORWARD
Post Facilitator: Slashing, Defending - Power forward is arguably the most versatile position in the game today. Nowadays, players in this position are capable of handling, dishing, rebounding, and of course, scoring. In the traditional sense of the position, Post Facilitators will learn to use their weight and size to their advantage, working the post to wear down defenders or kick the ball to a teammate. Defensively, you'll wreak havoc in the paint and thwart any plans to lay it in. 
Mid-Range Facilitator: Defending, Sharpshooting - The first player that comes to mind with this build is Anthony Davis. Known for swatting shots into the sixth row or serving as a versatile shooter and playmaker, Davis sets the example for what it means to be a Mid-Range Facilitator. With this build, defense will be one of your staples, whether you're in the post or out on the perimeter. On offense, anywhere in the 10- to 17-foot range is your sweet spot where you can make a living off your jump shot.
CENTER
Glass-Cleaning Finisher: Slashing, Sharpshooting - If commanding the paint is your bread and butter, whether you're crashing the boards or laying it in from close range, you might be a Glass-Cleaning Finisher, an essential ingredient to any successful team. Start by bolstering your player's finishing ability, but don't forget to add attribute points in the Defense/Rebounding category. In addition, your player's vertical leap and strength should have high ratings to rise up over an opponent or to box out the competition.
Paint Beast 1: Slashing Glass, Cleaning - As this role's name suggests, you'll dwell in the heart of the paint and wait for anyone brave enough to enter your arena. Giannis Antetoukounmpo is the latest example of someone who embodies what it means to be a Paint Beast. Moving like a freight train, no one stands in his way or prevents him from getting a rebound for a second-chance bucket. Get physical and be a true nuisance by ripping down any loose balls and powering your way to the rack at will. Command the paint by putting around 85 points each into Standing Dunk, Driving Dunk, Block, Interior Defense, and Vertical.
Applying attribute points to mold your MyPLAYER is a thoughtful process that can understandably feel overwhelming, but hopefully you now have a better sense of identifying which playstyle works best for you. The fun doesn't stop with the attribute points however: you still need to select your badges, which can be the difference-maker with your MyPLAYER.
SELECTING BADGES & TAKEOVERS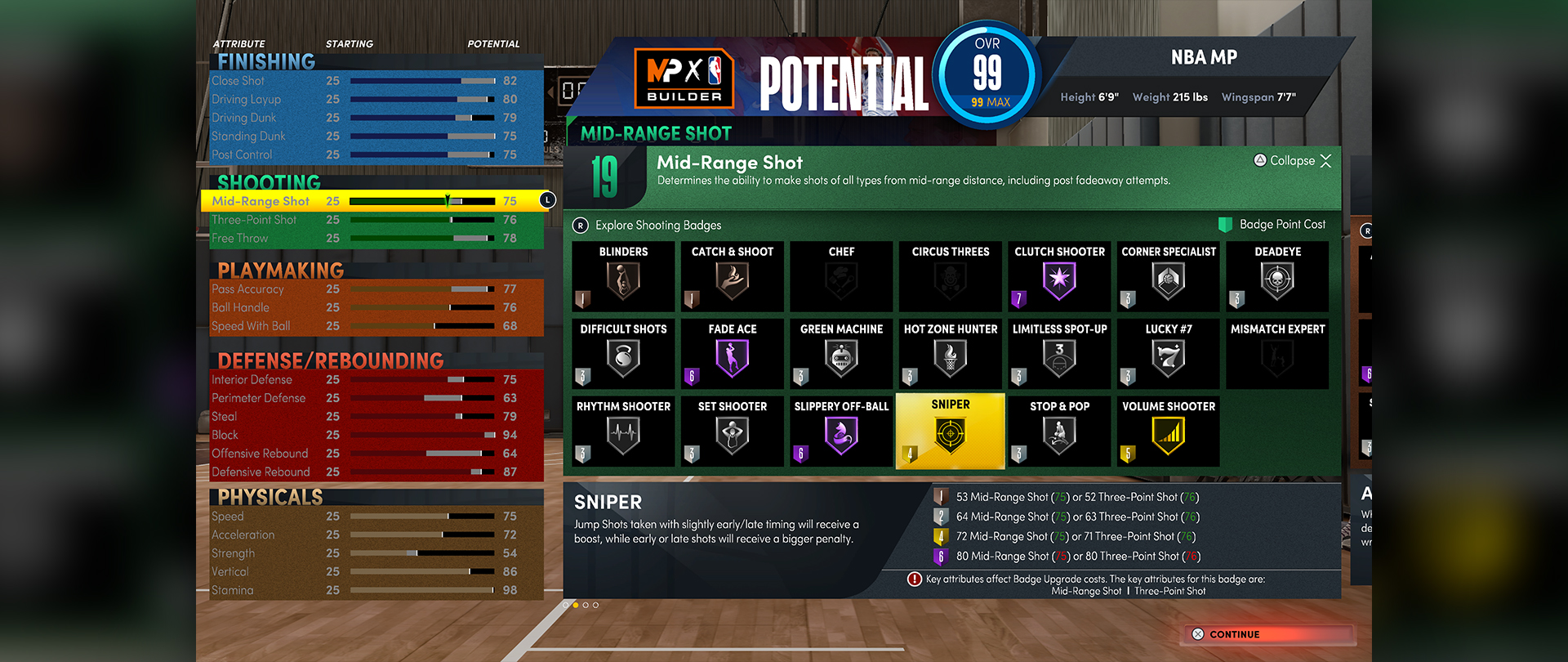 In recent years, badges have played a bigger role in differentiating players from one another. Essentially, badges are skill boosts you can pick and choose from when building your MyPLAYER. Each badge has a Bronze, Silver, Gold, and Hall of Fame tier system, further improving various skills. The badges are broken down into four categories: Finishing, Shooting, Playmaking, and Defense/Rebounds, and which ones are available to you will vary based on your MyPLAYER's position and build.
Badges have prerequisites in order for you to unlock them, meaning your MyPLAYER needs to have a specific rating to qualify. For example, if you're a three-point specialist interested in selecting the Catch and Shoot badge, you'll need to have a three-point base rating of 66 to add it to your arsenal. When applying your attribute points, it's crucial that you monitor the badge window on the right side of your screen to see which icons illuminate, so you'll know what badges are available to you. Edit and experiment with Badge Loadouts to save specific builds for your MyPLAYER. Overall, there are a plethora of badges and over time you'll accumulate more simply by playing games and improving your rating.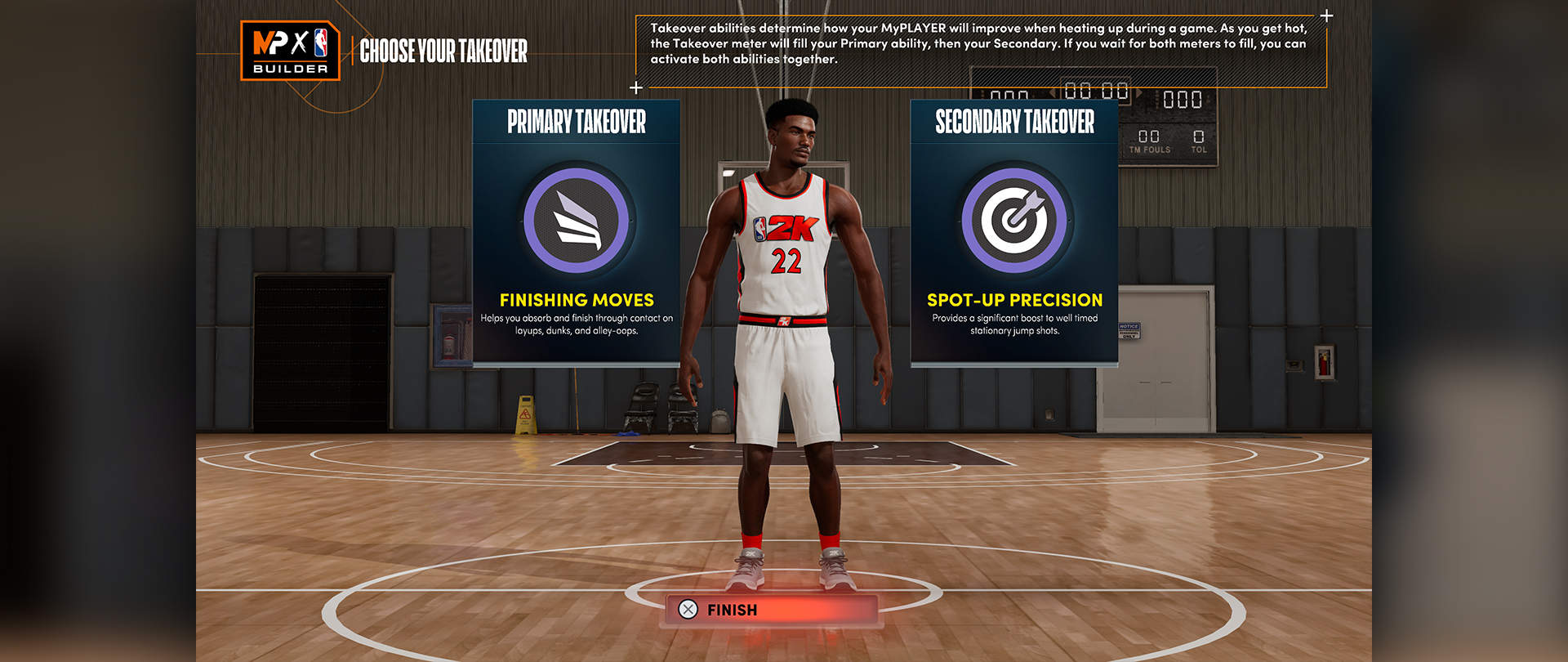 To put the finishing touches on your MyPLAYER, select two Takeovers that you think will elevate the way your player impacts the game. During games, your Takeover meter will fill based on your performance; once it's full, you can activate your primary or secondary Takeover. When you're locked in on offense or defense, the Takeover perk gives you a boost in a category of your choice, making it even harder for defenses to stop you or for other players to get by you.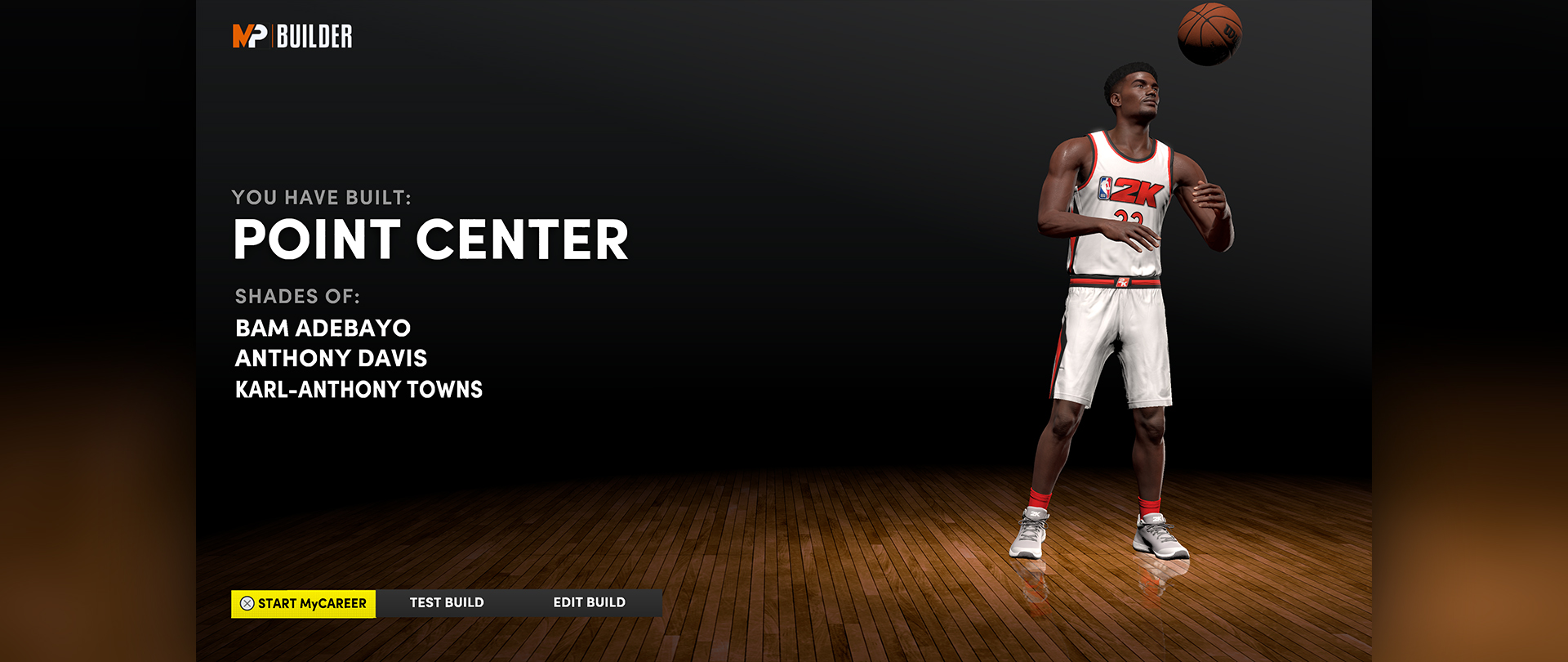 After completion, you can test your build and even edit your build if your MyPLAYER isn't exactly what you had in mind. Just remember that becoming a superstar isn't an overnight project; it takes dedication and effort to increase your MyPLAYER's rating, so don't get discouraged if you're not hitting step-back threes the first time you step on the court.