NBA 2K X BLEACHER REPORT
Lil Yachty has a clear passion for NBA 2K and has been playing for over a decade. All you have to do is search the internet to find some epic battles he's had with fellow rappers. But it goes beyond playing the game for Yachty, as he finds a sense of community within the game and bringing his crew together. For Yachty though, MyTEAM is where his heart resides, so we gave him a MyTEAM card and put him in the mode for everyone to enjoy. We teamed up with Bleacher Report to capture the Atlanta native as he walked us through his MyTEAM process, who his favorite young players are, and getting his own MyTEAM card. Check it all out in the video below!
MyTEAM
MyTEAM is the best place to assemble a roster of your favorite NBA players from any era, build your lineup, and dominate the competition! Whether you are a casual NBA fan, a card collector, or competitive gamer, MyTEAM is filled with amazing gameplay and experiences that will keep you coming back for more.
*Complete Lil Yachty's Spotlight Challenge below to earn his playable MyTEAM card, available for a limited time!
*Available in 2K23 from 4/13/2023 at 8:00a PST to 5/18/2023 at 11:59p PST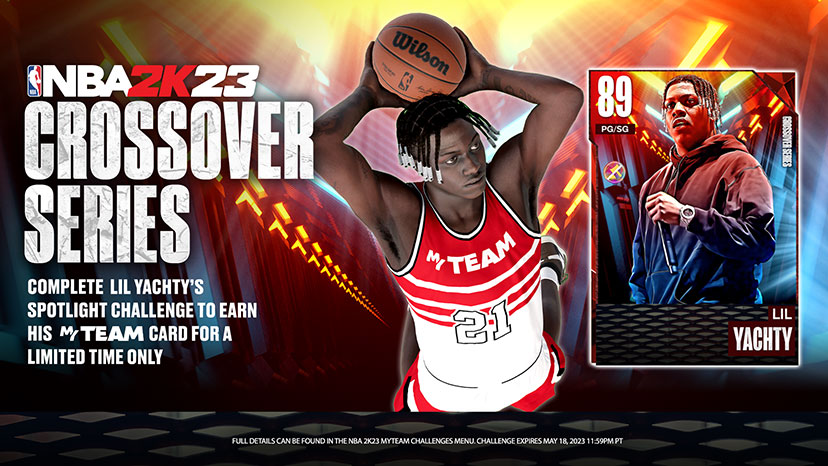 ICYMI
We also caught up with Lil Durk, Terrence Ross, Zion Williamson, Donovan Mitchell, and Dave East to find out how they hoop in MyTEAM and MyCAREER modes. Check it out in the videos below!