NBA 2K23 MyTEAM $250,000 UNLIMITED TOURNAMENT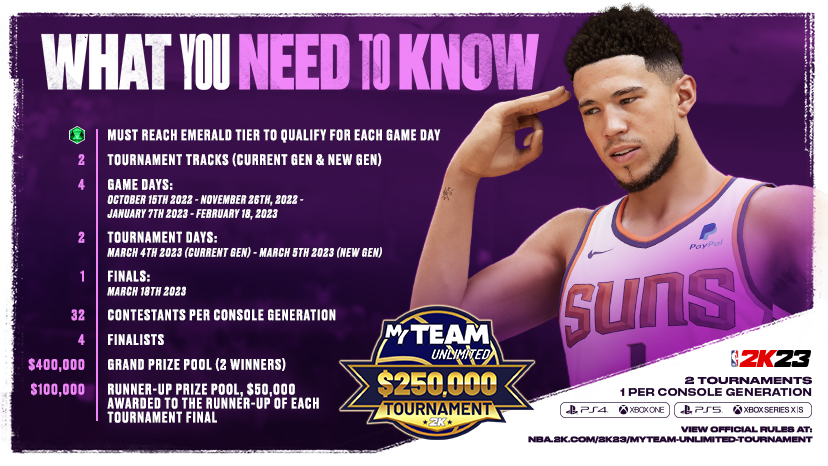 Do you have what it takes? $250,000 is up for grabs to the best of the best in the NBA 2K23 MyTEAM Unlimited Tournament. The NBA 2K23 MyTEAM Unlimited Tournament is back and will be played on two tracks again, 1 per console generation, with a total prize pool of $500,000 USD ($250,000 USD per track). The winner of each generation's MyTEAM Unlimited Tournament will earn a cash prize of $200,000 USD, while the runner-up won't leave empty-handed and will take home a handsome $50,000 USD.
HOW TO QUALIFY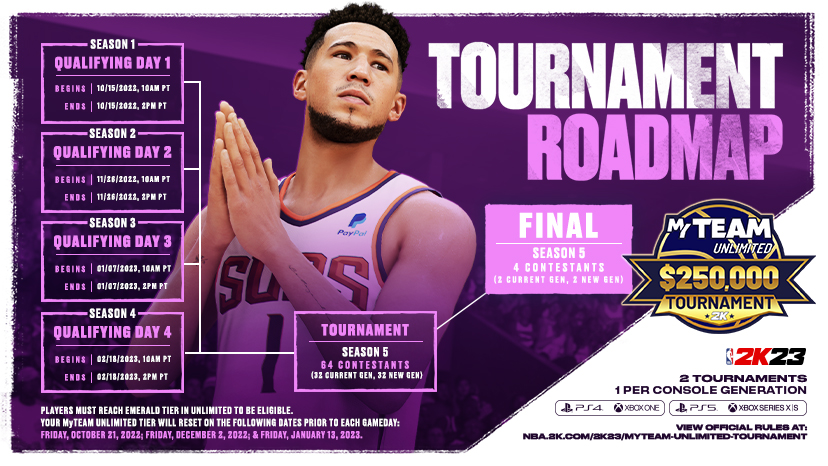 To qualify for the MyTEAM Unlimited Tournament you'll need to reach the Emerald Tier in Unlimited during a Season in the run up to the GameDays. There are 4 qualifying GameDays that you can enter to qualify for the Tournament, which happen in-game within the MyTEAM menu page. Remember that your tier level in Unlimited resets after the start of each season so you will need to reach the Emerald Tier again in the new Season to be eligible for the next qualifying day.
Qualifying GameDays
Season 1 GameDay: October 15, 2022
Season 2 GameDay: November 26, 2022
Season 3 GameDay: January 7, 2023
Season 4 GameDay: February 18, 2023
JOIN THE ACTION
Each GameDay Qualifier and the Tournament round will be online with commentary streamed live from Blue Coast Studios in LA, while the grand Finale will see 2 players from each console generation battle in out head-to-head in a in-person Final. Make sure you're following NBA2K_MyTEAM on Twitter to stay up to date will all the latest news and streaming links!
NBA® 2K23 MyTEAM Unlimited $250,000 Tournament Open to legal residents of the 50 United States & D.C. (excluding AZ, CT, MD, and ND), Australia, Canada (excluding Quebec), Chile, Denmark, France, Germany, Great Britain, Greece, Greater China, Indonesia, Israel, Japan, Mexico, New Zealand, Norway, Philippines, Portugal, Republic of Ireland, Singapore, South Africa, South Korea, Spain, Sweden, Switzerland, Thailand, and Turkey, who are at least 18 years of age and the age of majority in their state/country/province of residence. Void in AZ, CT, MD, ND, Quebec and where prohibited. Contest will consist of 2 separate tracks for PlayStation (PS) and Xbox entrants. To participate, you must have NBA® 2K23 game ("Game"), a Gamertag and Xbox Gold Service or PSN ID and PS Plus service, and Internet connection. Game must be played on PS4 and Xbox One for Track 1 and PS5 and Xbox X/S for Track 2. This Contest consists of: (i) the Pre-Qualifying Period; (ii) the GameDays; and (iii) the Tournament. You must qualify during the Pre-Qualifying Period to participate in the GameDays. The Pre-Qualifying Period begins on September 9, 2022 at 12:00:00 AM local time. The first GameDay takes place on October 15, 2022 and the last GameDay takes place on February 18, 2023. You must qualify for the Tournament, which is currently scheduled to take place on March 4, 2023 at 10:00 AM U.S. Pacific Time for Track 1 and on March 5, 2023 at 10:00 AM U.S. Pacific Time for Track 2. Subject to the Official Rules, which will be posted at https://nba.2k.com/2k23/myteam-unlimited-tournament/. Sponsored by 2K Games, Inc. ("2K"), a wholly owned subsidiary of Take-Two Interactive Software, Inc., 10 Hamilton Landing, Novato, CA 94949, USA.