There's a reason card collecting has been a popular hobby for decades. The thrill of ripping open a pack is a unique feeling, along with sifting through its contents hoping to discover your favorite player or stumble across a rare find. There's much to love about this pastime, especially in NBA 2K MyTEAM. Introduced in NBA 2K13, MyTEAM takes all the most exciting elements of card collecting and puts an interactive spin on it, allowing you to assemble a dream team of your very own and compete against other players. Collect cards and players from any decade and customize the jerseys, head coach, and court how you see fit. Whether you're new to MyTEAM or a returning player, there's much to learn before you can become a master.
CHOOSING YOUR FIRST CARD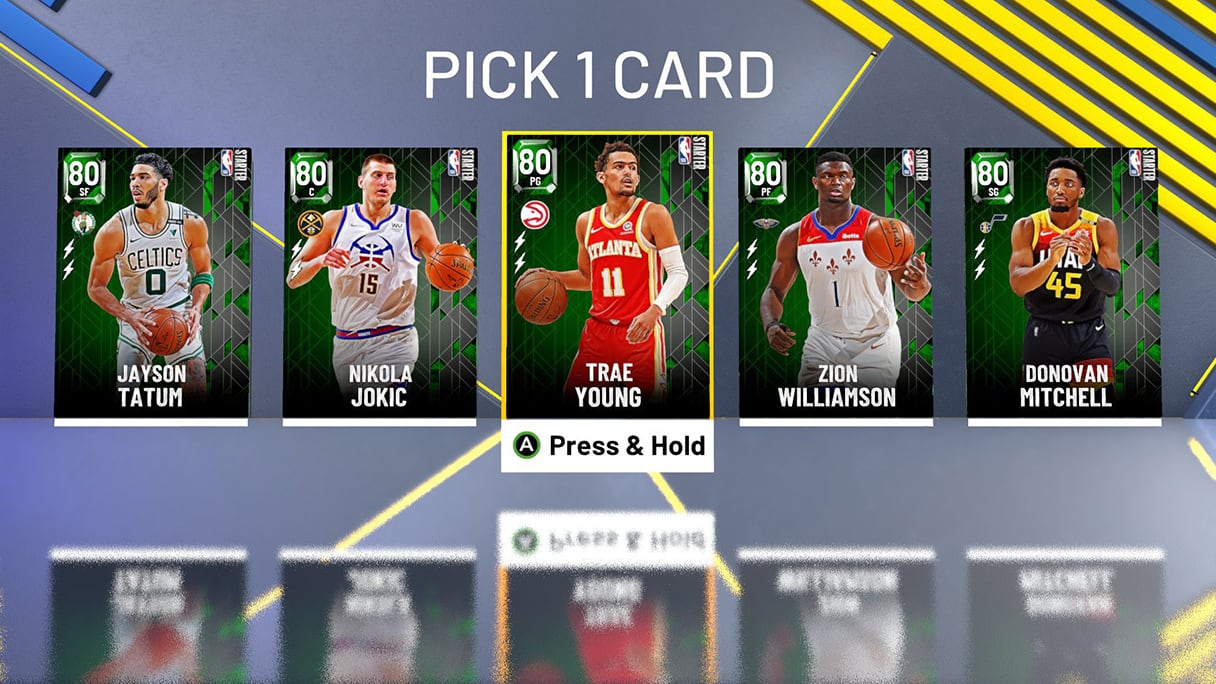 There are endless combinations and cards for you to collect in MyTEAM, but it all begins with your starter. Before you get lost in the shuffle, choose a player you'd like to build your roster around. You'll be given five options to choose from, each sharing the same overall rating. These beginner cards are also Evolution Cards, which allow you to improve their rating by checking off various challenges. It's easy to get attached to your starter, but don't feel like you have to keep them in your lineup once you start accumulating higher tier cards (we'll get into that later). 
After you've picked your franchise player, you'll receive a handful of other player cards to round out your roster. In addition, you'll get a team jersey, court, and head coach, along with contracts. Contracts are some of the most important cards in the game because they can extend a player's usage. Players won't suit up for you without Contracts, each of which secures their services for X amount of games. Overall, you'll receive many packs throughout your MyTEAM career, each containing different consumables and players. 
UNDERSTANDING CARD TIERS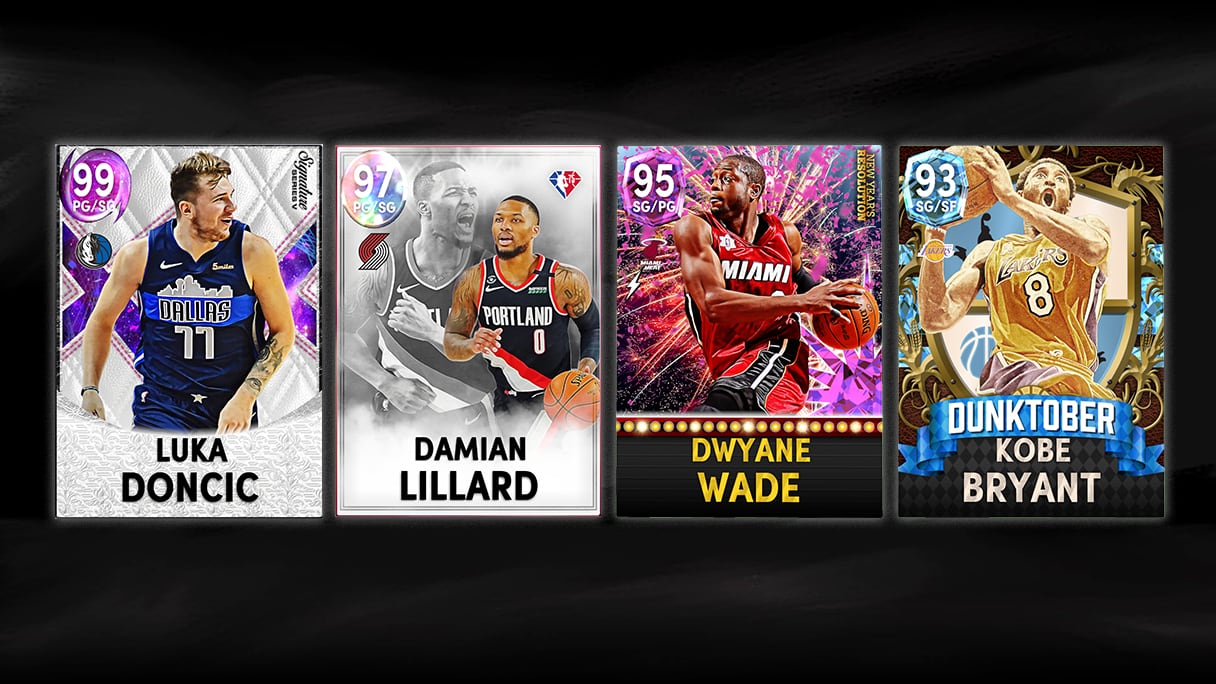 In most NBA 2K game modes, a player's talent level is based on their overall rating, but in MyTEAM, card tiers are also a factor. As a newcomer, understanding the difference between tiers and their significance might take a while, so we've put together  the list below. 
In order of rarity:
Dark Matter (99 OVR)- Atop the list is the ultra-rare Dark Matter card, reserved for 99 Overall ratings. Finding a Dark Matter card isn't easy, and you'll most likely only acquire one by completing challenges or in the Auction House.
Galaxy Opal (97-98 OVR) - Similar to the Dark Matter card, Galaxy Opal cards come with a 99 Overall rating, and they're among the best in the game. Any lineup with a Galaxy Opal in the mix is a bonafide squad.
Pink Diamond (95-96 OVR) - The third-best tier in MyTEAM is the Pink Diamond card, often featuring an elite player with a mid-90s rating. Having a Pink Diamond card in your collection will pay dividends when hitting the hardwood.
Diamond (92-94 OVR) - Acquiring Diamond cards requires some dedication. If you pull a Diamond card, you'll be gifted with a dynamic All-Star who can command the action on their own.
Amethyst (90-91 OVR) - If you acquire an Amethyst card, you're in business. This tier is knocking on the door of elite status.
Ruby (87-89 OVR) - The Ruby tier features well-rounded players capable of making an impact in-game. You can rely on them heavily and find consistent production. 
Sapphire - You'll start noticing an uptick in the talent pool with Sapphire cards. There's always a chance you pull an All-Star, but the card tier plays the biggest role in its rarity.
Emerald - This gorgeous green tier consists of quality role players, serving as solid plug-and-play options in a pinch.
Gold - These cards are among the most common in MyTEAM, and for any player starting out, you'll likely use them frequently. These foundational pieces help you establish a competitive roster.
CUSTOMIZING YOUR MyTEAM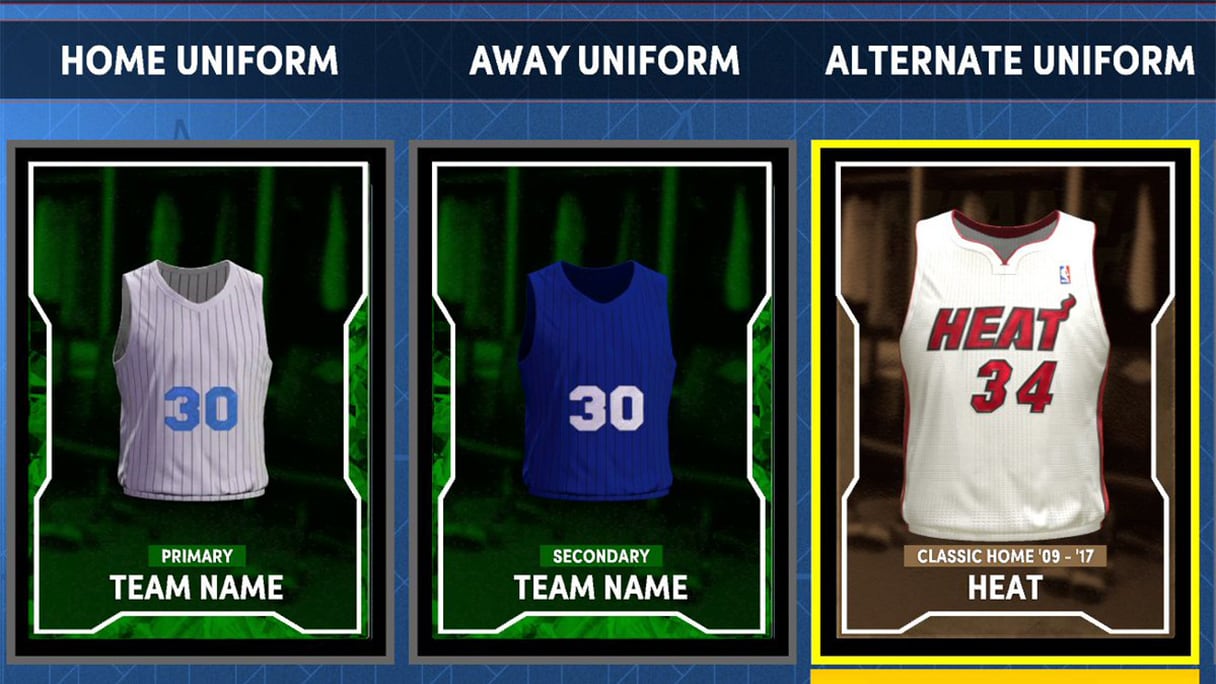 MyTEAM has many customizable options for you to choose from. Assembling your picture-perfect dream team is the main priority, but additionally, you can collect jerseys, courts, and shoes for your squad. You'll find hundreds of options to choose from when selecting a jersey and court that fits your style. Every lineup requires you to pick an away uniform, a home uniform, and an alternative uniform, so there's no confusion on the court. From throwback Memphis Grizzlies uniforms to modern-day Miami Heat colorways, give your team a look that represents you. If you're the home team, you can pick a court to host competitive matches on. The floors and Arenas are separate cards in MyTEAM, allowing you to mix and match the Orlando Magic court with New York's iconic Madison Square Garden. Last, but not least, Shoe Cards are no longer tied to specific attribute boosts, and you can create your own in the MT Shoe Lab. By adding attribute boosts to your shoes, you'll receive performance boosts and perks that improve various categories. For example, A Diamond shoe can hold up to five individual boosts that can improve a player's skill ratings. Let your creativity run wild and customize your MyTEAM however you like.
COMPETE IN DIFFERENT GAME MODES
Your MyTEAM lineup is sure to change over time, as you collect more cards with higher rarities, and it's important you tinker so you can find a roster that plays in your favor. Test your skills and your lineup by competing in different game modes within MyTEAM. There are single-player or multiplayer games for you to choose from, and you can even take your squad online! Check out the game modes and their specifications below:
Single Player:
Challenges - Some challenges are limited, but others are ongoing. Complete challenges to unlock new rewards and cards for your collection. These challenges are frequently updated, so you'll always have fresh content to pursue.
Domination - In a traditional format, go toe-to-toe with the CPU in a 5v5 clash. As much fun as it would be to feature five guards in your lineup, pick a point guard, shooting guard, small forward, power forward, center, and bench players to fill out your roster.
Triple Threat - 3v3 can be just as competitive as 5v5—if not more so. Pick three players to face-off against the CPU in an uptempo game to 21, and earn rewards by winning.
Multiplayer:
Clutch Time - What if the NBA had a four-point line? While it's unlikely the NBA adds one, we've given one to you in Clutch Time. The game starts tied with 5 minutes on the clock and features a 14-second shot clock to increase the sense of urgency. Go head-to-head with all 30 NBA teams before facing all 30 all-time NBA squads. Collect all 33 stars from each tier for cool rewards!
Draft - Get in the mind of an NBA General Manager and assemble a team by selecting Position Packs to fill out your roster. Pick two team members for each position and three from a Featured Pack. Players update every Friday and Featured Pack players will be phased in and out. In total, you'll need 13 players on your roster and a coach to complete your squad. Put your team to the test by winning 10 games, or losing three. If you rattle off 10 wins, you'll earn some neat rewards.
MyTEAM Limited - Compete in 5v5 games, but within the constraints of the weekly rules. That's right, there are specific guidelines and criteria that need to be met in order to participate. Collect all six rings in a Season reap the rewards!
MyTEAM Unlimited - In this online 5v5, compete against other players from around the world. There are nine tiers in this mode and you'll climb the ladder by winning, and earn better rewards in the process. 
Triple Threat Online: The 100 - Defense wins championships, and will be the key to winning in Triple Threat Online: The 100. Compete in 3v3 games to 21, but if you lose your score will be deducted from 100. The first person to hit zero loses the game.
MyTEAM is a fun and entertaining game mode in NBA 2K, and can be a welcome change of pace from more traditional modes. Build a team of superstars and experiment with iconic players from different generations. Hopefully, this guide has helped you understand the fundamentals of MyTEAM a little more, and given you the tools to start building your dream team.