NBA 2K22 UPDATED PLAYER RATINGS 11.18.21
Steph Curry and the Golden State Warriors are setting the league on fire right now, jumping out to a 12-2 record—and as of this writing they don't even have Klay Thompson back yet. The Dubs are one of the biggest storylines in the Association, but they aren't the only squad garnering well-deserved attention. In the East, the Chicago Bulls and Washington Wizards are out in front, surprising many pundits with stellar performances from their new-look rosters. The NBA and its players are in mid-season form already, which means it's time for another NBA 2K22 Player Ratings update.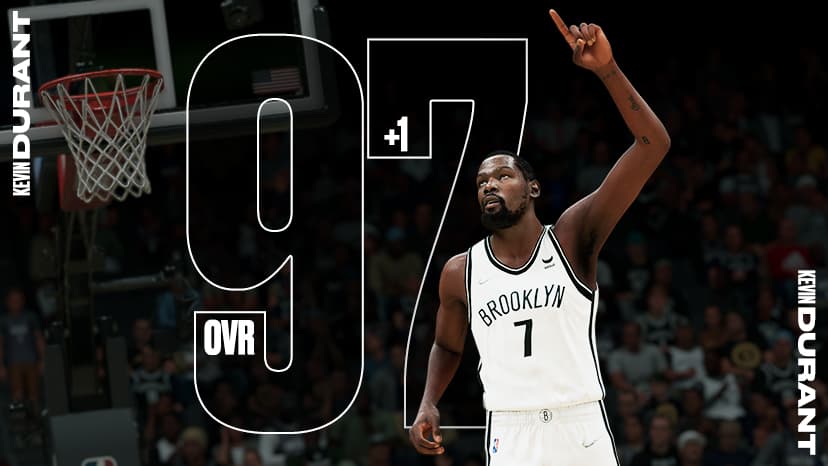 Kevin Durant, Forward, Brooklyn Nets: 97 OVR (+1)
KD is undeniably one of the greatest players, and scorers, of all time, but what he's doing in his 14th season is remarkable—especially when you consider the torn achilles tendon he suffered a couple years back. Durant is currently leading the league in scoring, averaging 29.6 points per game; if the season ended today, he'd earn the fifth scoring title of his illustrious career. It's hard to imagine a world where Durant gets better than he already is, but somehow he continues to exceed expectations, resulting in a bump to his 2K rating.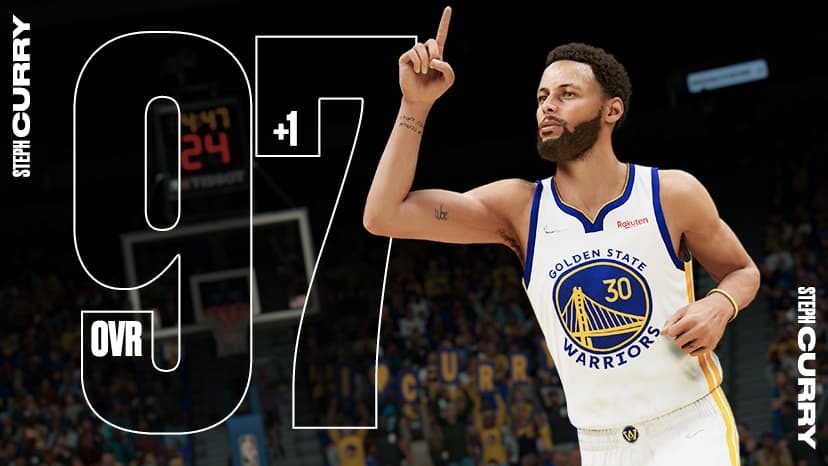 Stephen Curry, Point Guard, Golden State Warriors: 97 OVR (+1)
Make no mistake, Nikola Jokić earned his MVP win last year, but Curry was also more than deserving of the prestigious award. The former Davidson Wildcat was on a mission in 2020 and he's carried that momentum into this season. The former MVP and three-time champion has hoisted the Warriors to the best record in the league (12-2) across 14 games, and they look unstoppable. Just when you think Curry can't amaze you anymore, he does something that makes you question whether he was genetically engineered in a lab to make him utterly invincible. The out-of-this-world superstar is receiving a one-point bump to his rating, and it's entirely possible it rises again in the future.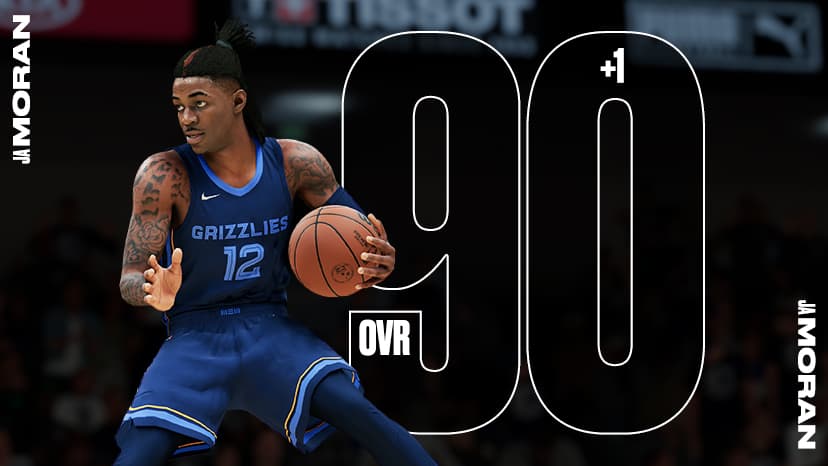 Ja Morant, Point Guard, Memphis Grizzlies: 90 OVR (+1)
Every year, it feels like there's a handful of point guards who get snubbed from the All-Star roster. Whether it's because of inexperience or because they play for a small-market team, it's a sad reality of the game. Ja Morant was one of those players just a season ago, but in 2021, he belongs in the All-Star Game. Right now, Morant is one of the best point guards in the Western Conference, and he's building out his arsenal of moves on a weekly basis. Morant is as electric as they come—one can hope he gives fans what they want by participating in this year's dunk contest—and he's turning the Memphis Grizzlies into a yearly playoff contender.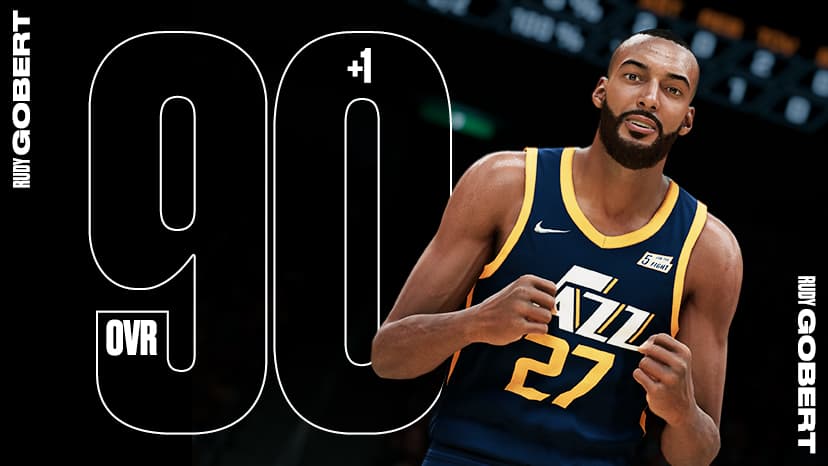 Rudy Gobert, Center, Utah Jazz: 90 OVR (+1)
Gobert has always been a shot-blocking machine, but every year it seems like he improves in the rebounding category. Through the early portion of this season, the French big man is dominating the glass, leading the league with an average of 15.4 rebounds per game. Towering above the competition at 7'1", Gobert is a menace in the low post, and it's rare an opposing player rips a rebound away from him. His presence leads to numerous second-chance points and keeps rival offenses honest if they're brave enough to power their way into the paint. Gobert has established himself as one of the best centers in the league, and it's time his rating reflected that.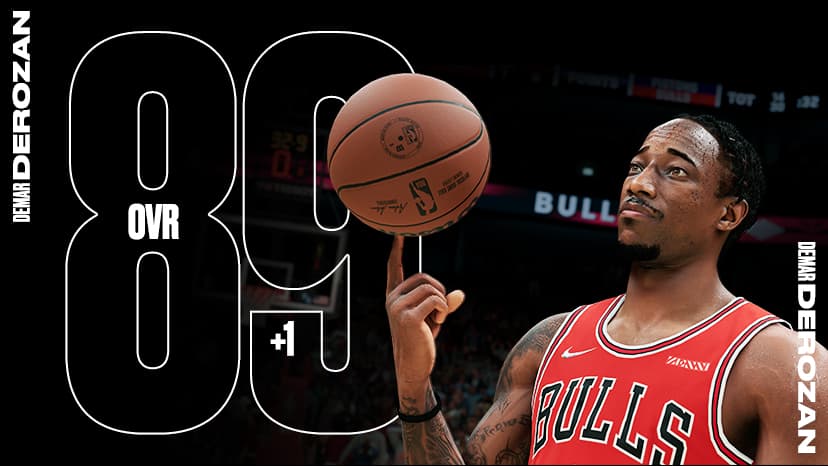 Demar Derozan, Guard-Forward, Chicago Bulls: 89 OVR (+1)
Demar Derozan's third act in the NBA is the kind of redemption story you'd find in the pages of a comic book. As one of the newest members of the Chicago Bulls, the former USC Trojan is playing the role of a hero for the city's beloved franchise after struggling to find his identity with the San Antonio Spurs. Derozan seemed like he was doomed to become a forgotten character, but has reemerged and is making a concerted effort to save the day in Chi-Town. With a cast of capable teammates backing him up, Derozan is thriving in his new threads.
Check out the full list of updated ratings to see who's rising and who's falling:
Stephen Curry: 97 OVR (+1)
Kevin Durant: 97 OVR (+1)
Nikola Jokić: 96 OVR (+1)
Jimmy Butler: 94 OVR (+2)
Luka Doncic: 93 OVR (-1)
James Harden: 91 OVR (-1)
Damian Lillard: 90 OVR (-2)
Ja Morant: 90 OVR (+1)
Rudy Gobert: 90 OVR (+1)
Paul George: 89 OVR (-1)
Donovan Mitchell: 89 OVR (+1)
DeMar DeRozan: 89 OVR (+1)
Karl-Anthony Towns: 88 OVR (-1)
Jayson Tatum: 88 OVR (-1)
Julius Randle: 86 OVR (-1)
Domantas Sabonis: 86 OVR (-1)
Malcolm Brogdon: 85 OVR (+2)
Mike Conley: 84 OVR (+1)
Jarrett Allen: 84 OVR (+1)
Darius Garland: 83 OVR (+1)
Tyler Herro: 83 OVR (+1)
Fred VanVleet: 83 OVR (+1)
Wendell Carter Jr.: 83 OVR (+1)
R.J. Barrett: 83 OVR (-1)
Jrue Holiday: 83 OVR (-2)
Kristaps Porziņģis: 83 OVR (+1)
Russell Westbrook: 83 OVR (-1)
Evan Mobley: 83 OVR (+1)
Clint Capela: 83 OVR (-2)
Norman Powell: 82 OVR (+2)
Myles Turner: 82 OVR (+2)
Cole Anthony: 82 OVR (+2)
Jerami Grant: 82 OVR (+2)
Christian Wood: 82 OVR (-1)
Nikola Vucevic: 82 OVR (-1)
Jusuf Nurkić: 82 OVR (+1)
Gordon Hayward: 81 OVR (-1)
Kyle Lowry: 81 OVR (-1)
Andrew Wiggins: 81 OVR (+1)
Al Horford: 81 OVR (+1)
Richaun Holmes: 81 OVR (+1)
Montrezl Harrell: 81 OVR (+1)
Buddy Hield: 80 OVR (+1)
Kemba Walker: 80 OVR (-3)
Tyrese Maxey: 80 OVR (+3)
Will Barton: 80 OVR (+2)
Bojan Bogdanović: 80 OVR (+1)
Ricky Rubio: 80 OVR (+1)
Mohamed Bamba: 80 OVR (+1)
D'Angelo Russell: 80 OVR (-1)
Gary Trent Jr.: 80 OVR (+1)
Jalen Brunson: 80 OVR (+2)
Jaren Jackson Jr.: 80 OVR (-1)
Michael Porter Jr.: 80 OVR (-1)
Devonte Graham: 80 OVR (+1)
Dennis Schröder: 80 OVR (+1)
Andre Drummond: 80 OVR (+1)
Steven Adams: 80 OVR (+1)
Seth Curry: 79 OVR (+1)
Nemanja Bjelica: 79 OVR (+1)
Josh Hart: 79 OVR (+2)
Terry Rozier III: 79 OVR (-2)
Patrick Beverley: 79 OVR (+1)
Dwight Howard: 79 OVR (+1)
Eric Gordon: 78 OVR (-1)
Grayson Allen: 78 OVR (+1)
Joe Ingles: 78 OVR (-1)
Chris Duarte: 78 OVR (-1)
Otto Porter: 78 OVR (+1)
Evan Fournier: 78 OVR (-2)
Kelly Oubre Jr.: 78 OVR (+1)
Tim Hardaway Jr.: 78 OVR (-1)
Furkan Korkmaz: 78 OVR (+2)
Immanuel Quickley: 78 OVR (+2)
Jordan Poole: 78 OVR (+2)
Talen Horton-Tucker: 78 OVR (+2)
Jae'Sean Tate: 78 OVR (+2)
Patrick Mills: 77 OVR (-1)
Danny Green: 77 OVR (+1)
Devin Vassell: 77 OVR (+1)
Bogdan Bogdanović: 77 OVR (-2)
Sviatoslav Mykhailiuk: 77 OVR (+2)
Pat Connaughton: 77 OVR (+3)
De'Andre Hunter: 77 OVR (-2)
Cameron Reddish: 77 OVR (-2)
Franz Wagner: 77 OVR (+1)
Terance Mann: 77 OVR (+1)
Royce O'Neale: 77 OVR (+1)
Frank Kaminsky III: 77 OVR (+1)
Nassir Little: 77 OVR (+1)
Shake Milton: 77 OVR (+1)
Eric Bledsoe: 77 OVR (+1)
Jordan Clarkson: 77 OVR (-2)
Derrick White: 77 OVR (-1)
Nickeil Alexander-Walker: 77 OVR (-2)
Mason Plumlee: 77 OVR (-2)
JaVale McGee: 77 OVR (+1)
DeAndre Jordan: 77 OVR (+1)
Grant Williams: 76 OVR (+2)
Nicolas Batum: 76 OVR (+1)
Damion Lee: 76 OVR (+1)
Georges Niang: 76 OVR (+1)
Cedi Osman: 76 OVR (+2)
Danilo Gallinari: 76 OVR (-3)
Cody Martin: 76 OVR (+2)
Tyus Jones: 76 OVR (+1)
De'Anthony Melton: 76 OVR (-1)
Serge Ibaka: 76 OVR (-3)
Javonte Green: 76 OVR (+1)
Torrey Craig: 76 OVR (-1)
DeAndre Bembry: 76 OVR (+2)
Marcus Smart: 76 OVR (-1)
Kevon Looney: 76 OVR (+2)
Isaiah Hartenstein: 76 OVR (+1)
Enes Kanter: 76 OVR (-1)
Drew Eubanks: 76 OVR (+2)
Joe Harris: 75 OVR (-1)
Duncan Robinson: 75 OVR (-2)
Kentavious Caldwell-Pope: 75 OVR (+1)
Jalen McDaniels: 75 OVR (+1)
Dorian Finney-Smith: 75 OVR (-1)
Kevin Porter Jr.: 75 OVR (-1)
Cameron Johnson: 75 OVR (-1)
Trey Lyles: 75 OVR (+1)
Paul Millsap: 75 OVR (-3)
Monte Morris: 75 OVR (-2)
Jalen Suggs: 75 OVR (-1)
Bruce Brown: 75 OVR (-2)
Josh Jackson: 75 OVR (-1)
Blake Griffin: 75 OVR (-1)
Jaden McDaniels: 75 OVR (-1)
Andre Iguodala: 75 OVR (+2)
Dewayne Dedmon: 75 OVR (+1)
Doug McDermott: 74 OVR (-2)
Tony Snell: 74 OVR (-1)
Nah'Shon Hyland: 74 OVR (+2)
George Hill: 74 OVR (-1)
Juan Hernangómez: 74 OVR (-1)
Kevin Huerter: 74 OVR (-2)
P.J. Dozier: 74 OVR (+2)
Facundo Campazzo: 74 OVR (-2)
Cory Joseph: 74 OVR (+1)
Chuma Okeke: 74 OVR (-1)
Dalano Banton: 74 OVR (+5)
Rajon Rondo: 74 OVR (-1)
Eric Paschall: 74 OVR (-1)
Taj Gibson: 74 OVR (-2)
Paul Reed: 74 OVR (+2)
Willie Cauley-Stein: 74 OVR (-1)
Bryn Forbes: 73 OVR (-1)
Wayne Ellington: 73 OVR (-2)
Garrett Temple: 73 OVR (+1)
Tre Mann: 73 OVR (+1)
Ayo Dosunmu: 73 OVR (+2)
Reggie Bullock: 73 OVR (-1)
Frank Ntilikina: 73 OVR (+1)
Terence Davis: 73 OVR (-1)
Payton Pritchard: 73 OVR (-1)
JaMychal Green: 73 OVR (-2)
Jeff Green: 73 OVR (-2)
Thanasis Antetokounmpo: 73 OVR (+1)
Oshae Brissett: 72 OVR (-2)
Tomas Satoransky: 72 OVR (-1)
Kent Bazemore: 72 OVR (-1)
Jevon Carter: 72 OVR (-1)
Saben Lee: 72 OVR (-1)
Jordan McLaughlin: 72 OVR (-1)
Ty Jerome: 72 OVR (-1)
Frank Jackson: 72 OVR (-1)
Darius Bazley: 72 OVR (-3)
Hamidou Diallo: 72 OVR (-2)
Naji Marshall: 71 OVR (-1)
Moritz Wagner: 70 OVR (-2)
Justin Robinson: 69 OVR (+1)