For two decades, Kobe Bryant dazzled fans around the world with his awe-inspiring performances in legacy-defining moments. In NBA 2K24, take control of one of the greatest players of all time and recreate some of his most memorable games in MAMBA MOMENTS™, a new immersive mode that retells his legendary career.
These moments spotlight some of Kobe's most competitive performances over his 20-year-Hall-of-Fame career. Featuring incredible performances that don't always get the spotlight, MAMBA MOMENTS demonstrates Kobe's legacy to a new generation of NBA fans. From the early 2000s to his fifth NBA championship, recapture Kobe's greatness and harness his tenacious nature on the hardwood.
2001 Western Conference Semifinals, Game 4
Up 3-0 against the Sacramento Kings, Kobe slammed the door shut on the division rival's postseason hopes with a remarkable 48 points and 16 rebounds. At just 22 years old, the then-three-time All-Star proved that the stage wasn't too big for him. Dissect the Kings' defense with Kobe's blistering speed and crash the boards in one of No. 8's most memorable games.
Kobe Sets NBA Three-Point Record
Long before Stephen Curry and Klay Thompson made three-pointers cool, Kobe delivered a three-point performance unlike anything seen before. Against the Seattle SuperSonics, the Los Angeles Lakers guard knocked down a then-NBA record for most threes in a game, converting 12 of his 18 attempts from behind the arc. Let it fly from three-point land and recreate the magic from that electric night in 2003.
The Mentee Faces His Mentor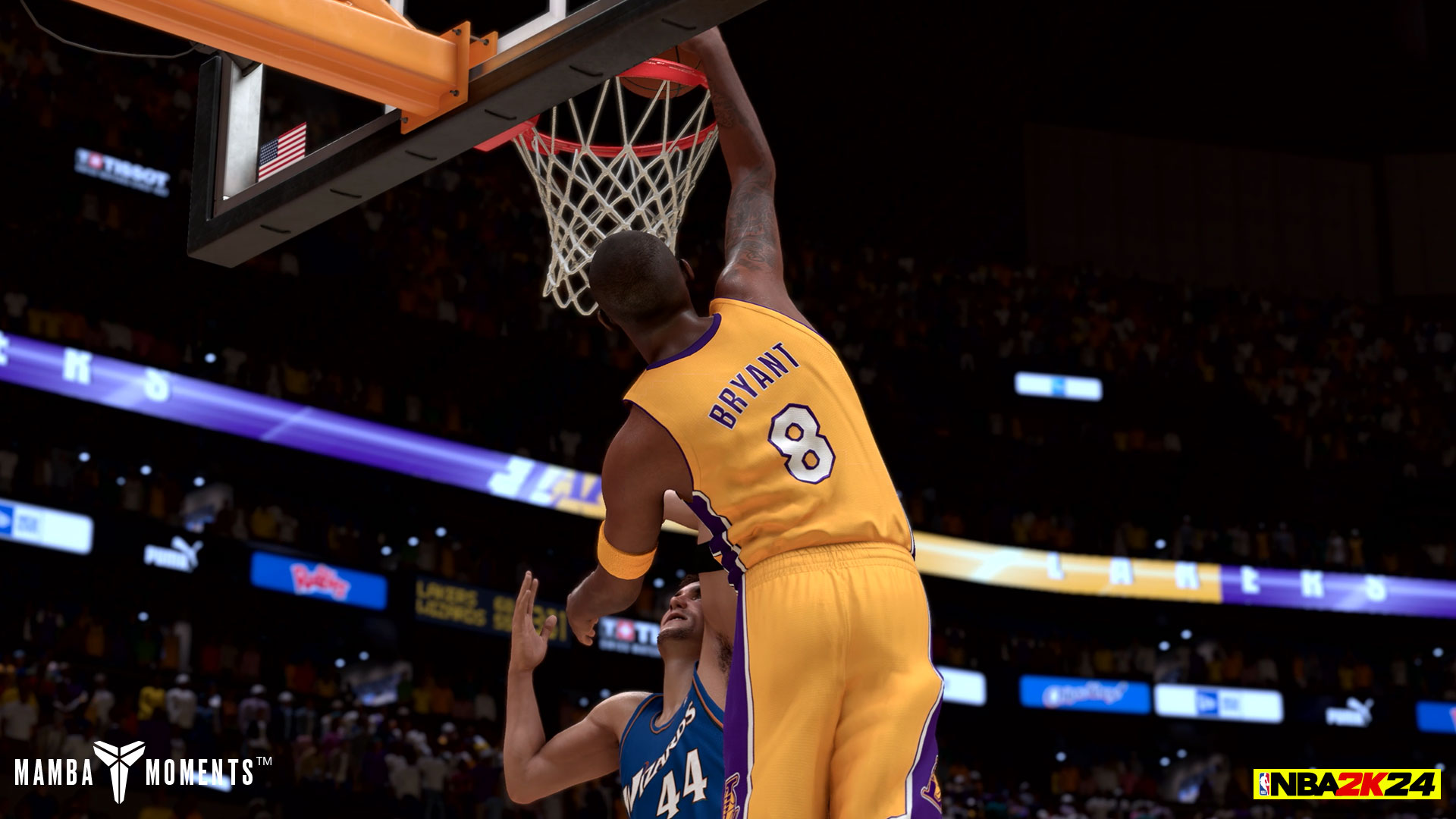 From the moment Kobe set foot in the NBA, he was unafraid to go toe-to-toe with Michael Jordan every time they met, whether it was a regular season game or the All-Star Game. Go head-to-head as Kobe against his idol and mentor, MJ, and deliver a stunning 55 points— including breaking the Lakers team record with 42 points in a single half—en route to a commanding win.
Kobe Erupts for 62 Points In Three Quarters
No scouting report could've prepared the Dallas Mavericks for the offensive mastery Kobe showcased on December 20, 2005. In 32 minutes of action, Kobe took over against the Mavs, dropping 62 points in only three quarters of play. Outscore the entire Mavericks team as Kobe and put the game out of reach before the start of the fourth quarter.
Three-Point Barrage Leads to 65-Point Game
Coming into a matchup with the Portland Trail Blazers, the Lakers were on a seven-game skid—until Kobe decided that enough was enough. He put the team on his back and scored a whopping 65 points, knocking down eight of 12 three-point attempts. Drain three after three in this exciting duel and hoist the Purple and Gold to victory.
2008 Western Conference Finals, Game 5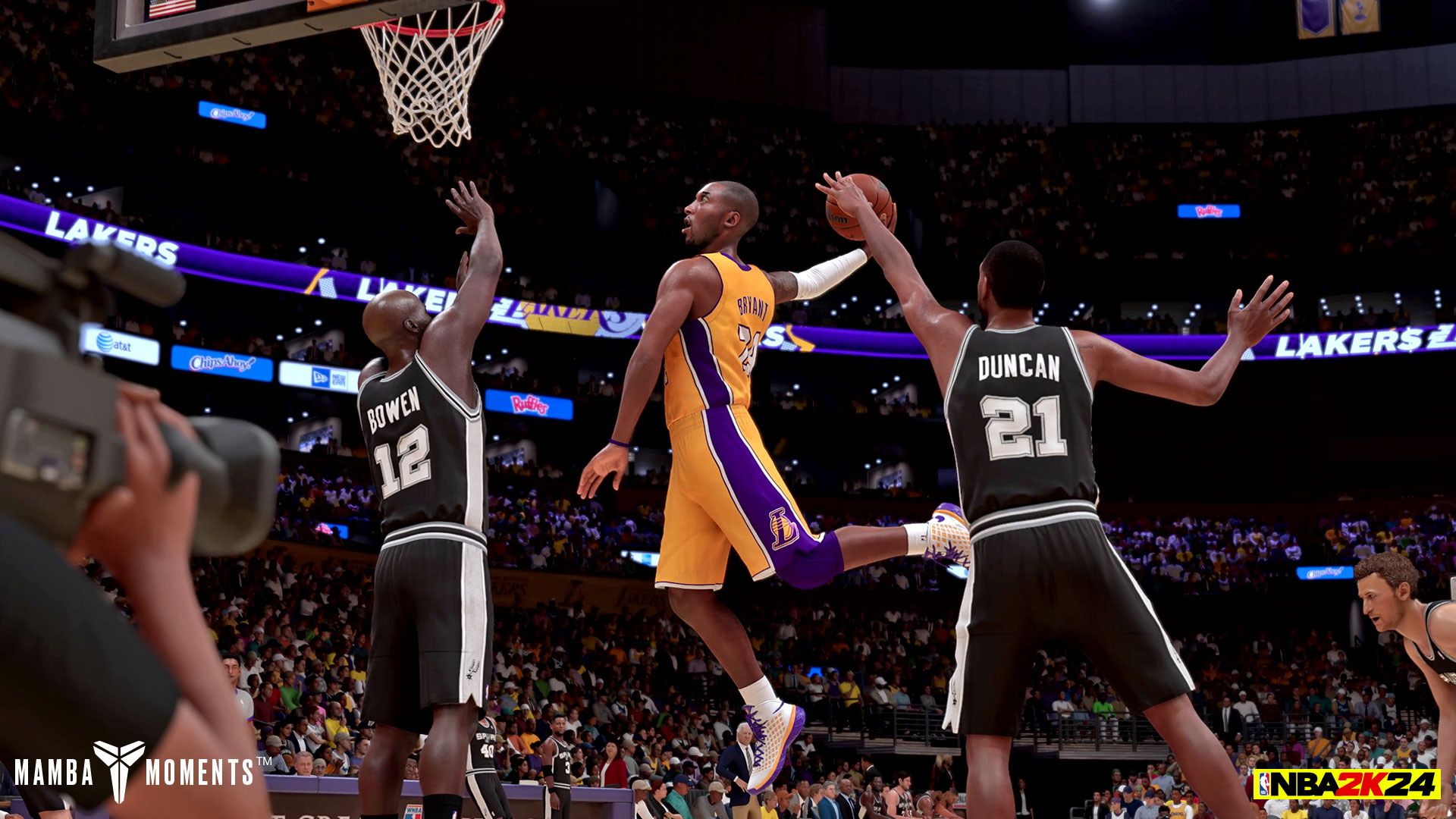 Between 1999-2010, the Lakers and the San Antonio Spurs had nine NBA championships between them, creating a Western Conference rivalry between the two teams. In 2008, the Spurs were hoping to win back-to-back championships, but Kobe had other plans. Despite a triple-double from Tim Duncan, Kobe went off for 39 points and sent the Spurs back to San Antonio. Dash the Spurs' title hopes, tap into the Black Mamba's 2008 MVP form, and help the team advance to the NBA Finals.
2010 NBA Finals, Game 7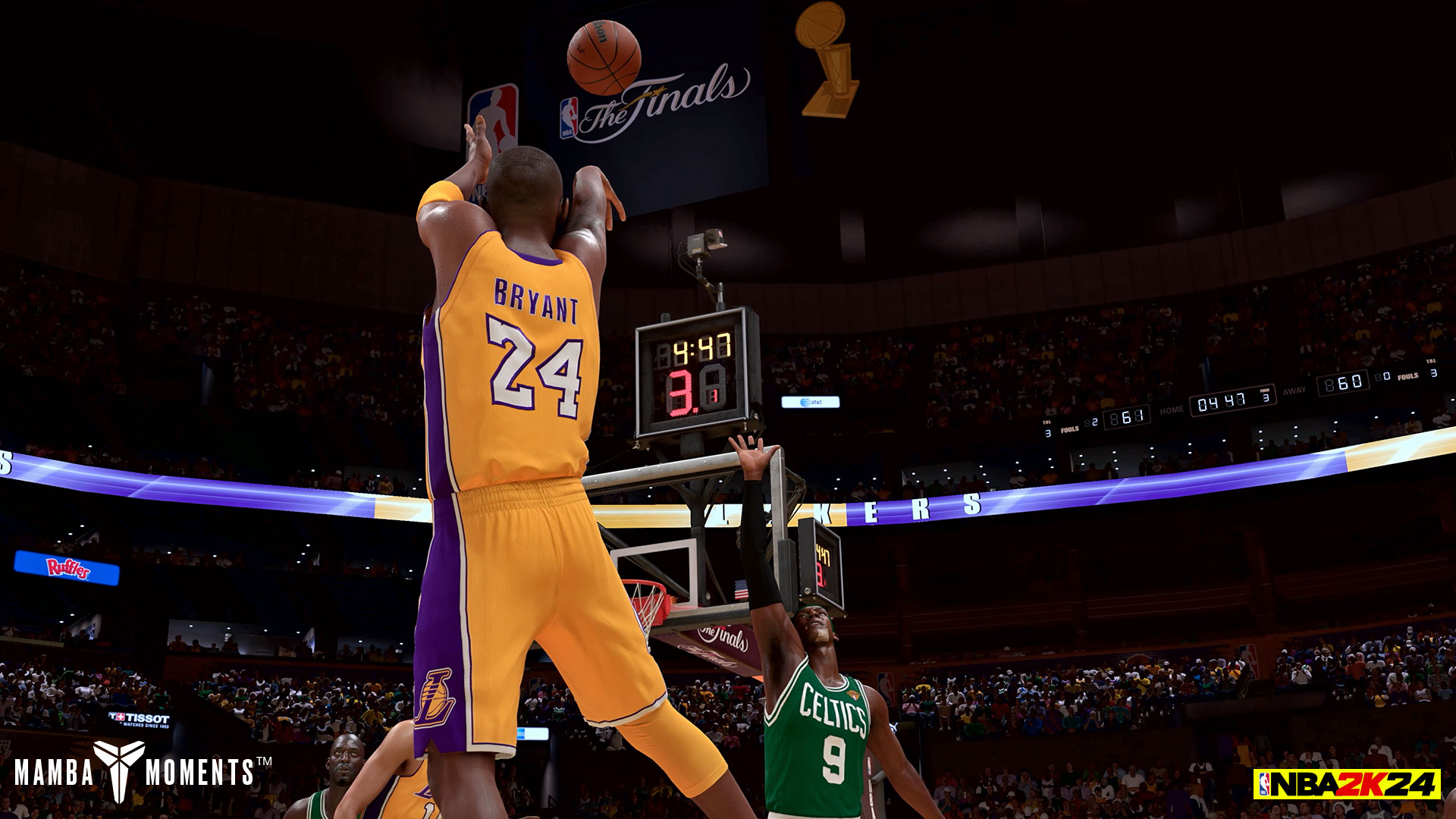 Lakers vs. Celtics: one of the greatest rivalries in all of sports. Looking to win back-to-back titles for the first time since the early 2000s, Kobe did a little bit of everything during his clutch close-out performance against Boston. Endure a grueling, physical battle and will the Lakers to victory by crashing the boards and locking down defensively on the way to the title.
Each game from MAMBA MOMENTS captures the artistry and tenacity with which Kobe played, including some of his iconic mannerisms. When Kobe bit his jersey or blew on his fingers you knew he was in the zone and he celebrated milestone victories passionately with emphatic fist pumps. Remember his achievements and relive them in great detail.
Visit the Kobe Bryant Building and earn rewards found in MyTEAM and MyCAREER. MAMBA MOMENTS mode is available on PlayStation®5, Xbox Series X|S, PlayStation®4, Xbox One, Nintendo Switch, and Steam for PC. Recreate legendary moments from Kobe Bryant's illustrious career and experience an immersive journey from his days as a young superstar to a five-time Champion and all-time great!
BLACK MAMBA®, MAMBA™, KOBE BRYANT™, MAMBA MOMENTS™, MAMBA MENTALITY®, Kobe Bryant's signature, and the Kobe Sheath Logo are trademarks of Kobe Bryant, LLC, used with permission.