SEASON 1
NBA 2K24 and Season 1 have arrived, and with it a trove of new features, modes, and rewards for you to experience! Whether you're exploring the Neighborhood on a Current Gen console or out in The City on New Gen, you won't want to miss what is coming in Season 1. From new events to exciting rewards and powerful MyTEAM cards, Season 1 is just the beginning of what's set to be an action-packed year
NEW IN MyTEAM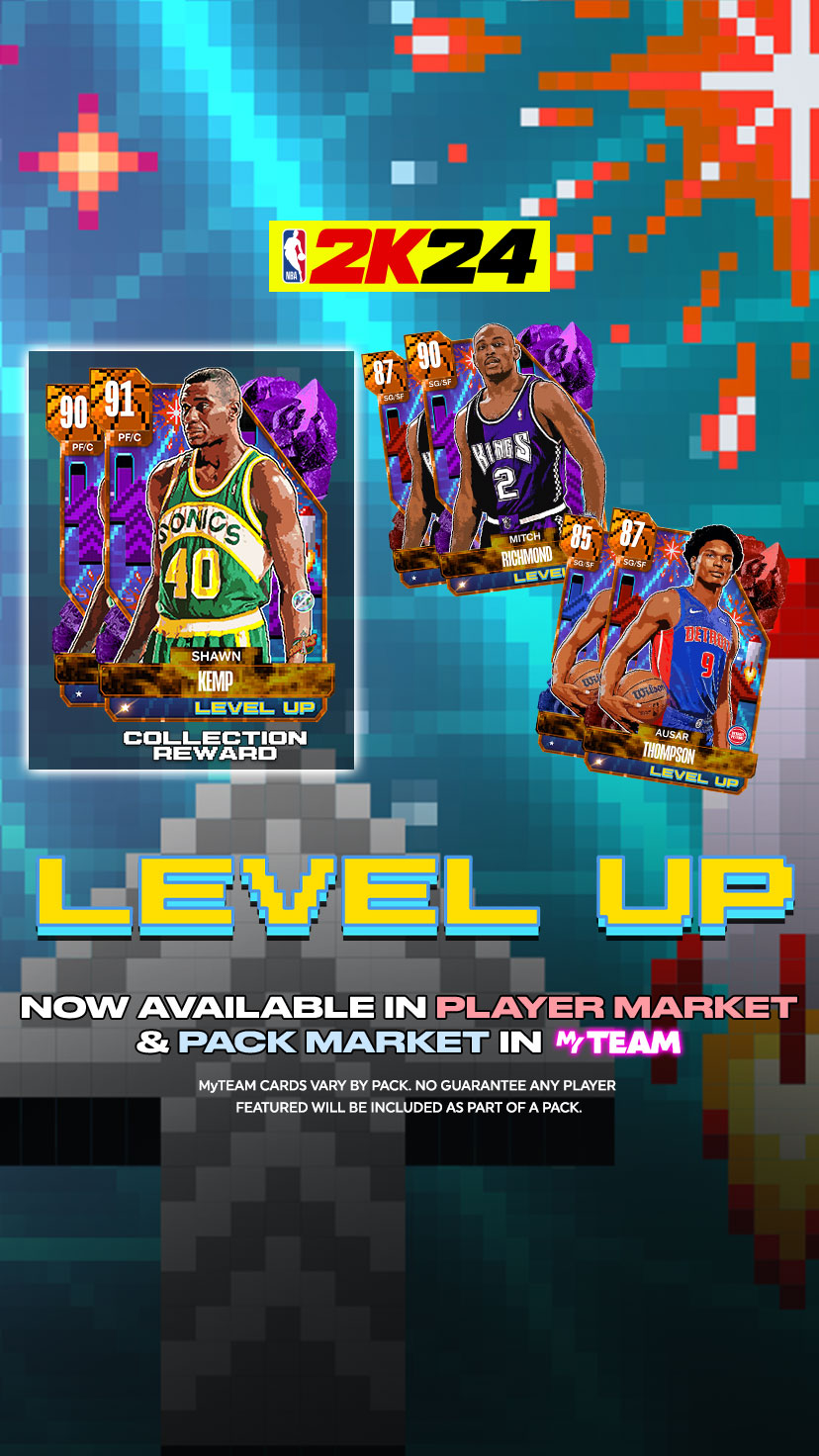 SHOWTIME x LEVEL UP IS AVAILABLE NOW IN MyTEAM
Sep 21 – 28
It's time to take your lineup to the next level! Add these players to your collection and complete their evolution criteria to make them even more powerful!
Headlined by the always powerful Shawn Kemp, his Amethyst card will be available as the Collection Reward. Also included in this collection is Hall of Famer Mitch Richmond, NBA Rookie Ausar Thompson, Houston Legend Rudy Tomjanovic, Dunking Desmond Mason, Speedy Dee Brown, All-Star Tyrone Hill, and Charlie Ward.
Earn an unsellable equal chance at a Level Up player by completing agendas using previously released cards.
SEASON PASS
The NBA 2K24 Pro Pass: Season 1 takes your MyCAREER and MyTEAM experience to the next level. The Pro Pass unlocks access to 40 levels of earnable premium rewards, including up to 45,000 VC as you progress through the Season on your way to level 40! Get the Season 1 Pro Pass and automatically receive an animated green release arm sleeve, a pair of checkerboard striped short shorts, a Ruby Giannis Antetokounmpo MyTEAM card, & a limitless range HOF Badge!
The Season 1 Hall of Fame Pass includes everything in the Pro Pass (access to 40 levels of earnable premium rewards, and 4 additional Season Pass Rewards), a 15% XP Booster for the entire season, and 10 Level Skips immediately applied to the Season reward track, & 15,000 VC!